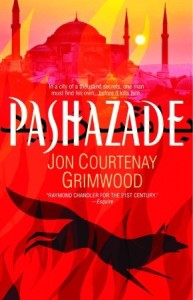 Pashazade is an excellent sci-fi mystery set in an alternate history world that is similar enough to ours, but with enough differences to make it extremely compelling. The excitement I felt for this was similar to when I picked up my first Gibson novel way back when Neuromancer was first released.
Synopsis:
Part mystery, part speculative fiction, and wholly unforgettable, Jon Courtenay Grimwood's celebrated Arabesk series portrays the dark, hard-boiled story of a man out to prove his innocence in an alternate world where the facts aren't always the same as the truth . . . and murder isn't the worst that can happen.
It's a twenty-first century hauntingly familiar—and yet startlingly different from our own. Here the United States brokered a deal that ended World War I, and the Ottoman Empire never collapsed. And lording it over all sits the complex, seductive, and bloodthirsty North African metropolis of El Iskandryia. Almost nothing is what it seems to be in El Isk, and Ashraf Bey is no exception.
Neither the rich Ottoman aristocrat everyone thinks he is, nor the minor street criminal once shipped off to prison when he fell foul of his Chinese Triad employers–the fact is that Raf has as little idea who he is as anyone else.
With few clues and no money, all Raf has is a surname hinting at noble heritage and an arranged marriage to a woman who hates him. But nothing Ashraf al Mansur learns about himself is as unexpected—or as terrifying—as the brutal murder he's accused of committing. Now, as a hunted man with the welfare of a precocious young girl in his irresponsible hands, Raf must race after a killer through an unforgiving city as foreign to him as the truth he'll uncover about himself.
Why I Love It:
Grimwood's writing is so evocative. I could picture the garish faded allure of the free city El Iskandriyah (aka our Alexandria) and its corrupt, now-rotting foundation, all blasted by the unforgiving heat of North Africa. Our hero is the genetically modified, drug taking Raf, a reinvented man who has been brought to El Isk because of a new found status and a newly acquired alliance. Each of which bring him mountains of trouble.
I actually read the second book in this series first and couldn't wait to go back and start at the beginning. Having Raf's backstory in book one, really fills out his character in the subsequent book – I'd been finding him a bit of an enigma, but that was because I read it out of order. All the characters, from young Hani, to his jilted bride Zara and her family, sucked me in and made me want to know more about them. Then there's the added element of this enthralling alternate world: an interesting tension of hedonism and traditionalism, Islamic, and tech heavy.
While murder fuels each book, the trilogy (at least based on the first two books) is really an epic tapestry, anchored by the lives of these characters we're swept into. Great read.
Subscribe for bonus content and insider scoops!
Twittering away...
https://t.co/1UHQhm57rN Cautiously optimistic about the premise
- Wednesday Feb 21 - 9:20pm
SPOILER ALERT! A fabulous video that you absolutely SHOULD NOT WATCH if you have not yet seen The Good Place s1 fin… https://t.co/Jqf3UnxHg3
- Tuesday Feb 20 - 4:15am
Lose yourself in a funny, sexy urban fantasy romance! The Unlikeable Demon Hunter: Crave releases Feb 20 and to cel… https://t.co/WPcUSnVRRu
- Sunday Feb 18 - 4:56pm
Bet you didn't know you could pair tap dancing and Star Wars! https://t.co/GS2qzvH7nJ
- Friday Feb 16 - 8:45pm
Better late than never! Discovered the Haim Time podcast on Beats One. So good!
- Friday Feb 16 - 6:45pm
Tellulah's Old Darlings