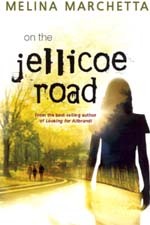 I think this is a first here on Curl up with a good book Sunday – featuring a second book (not in a series) by the same author. But On the Jellicoe Road is just that good.
Synopsis:
I'm dreaming of the boy in the tree. I tell him stories. About the Jellicoe School and the Townies and the Cadets from a school in Sydney. I tell him about the war between us for territory. And I tell him about Hannah, who lives in the unfinished house by the river. Hannah, who is too young to be hiding away from the world. Hannah, who found me on the Jellicoe Road six years ago.
Taylor is leader of the boarders at the Jellicoe School. She has to keep the upper hand in the territory wars and deal with Jonah Griggs – the enigmatic leader of the cadets, and someone she thought she would never see again.
And now Hannah, the person Taylor had come to rely on, has disappeared. Taylor's only clue is a manuscript about five kids who lived in Jellicoe eighteen years ago. She needs to find out more, but this means confronting her own story, making sense of her strange, recurring dream, and finding her mother – who abandoned her on the Jellicoe Road.
The moving, joyous and brilliantly compelling new novel from the best-selling, multi-award-winning author of Looking for Alibrandi and Saving Francesca.
Why I Love It:
Author Marchetta wrote Finnikin of the Rock, which I rave about on a regular basis and previously featured. Finnikin was densely layered mythology, an epic tale spanning 3 books.
Jellicoe is a bit of a puzzle. The two alternating stories of past and present are completely compelling but Marchetta doesn't give the reader a lot of explanation or set up as to what is going on. So for the first half, you're pretty much clueless. It makes for an interesting read – and an amazing "aha" moment when all starts to make sense. Because eventually it does.
Like many of you obsessive readers, there have been many times when I didn't want a book to end. Felt sad once I closed the cover. But it is rare that I resent being forced to return to the real world.
That's what happened with this book. There I was, bawling away, so immersed in Taylor's story that when I a sound from the "real world" made me look up, I was startled that there was somewhere else to return to. Resentful and confused at how people could just be having conversations when all this in my other fictional (yet more real) world was happening. Feeling I was somewhere caught between the two places and wanting so desperately to go back to Jellicoe Road.
At its most basic and primal level, storytelling is about making an emotional connection with one's audience. I am envious and admiring and so so grateful for the depth of Melina Marchetta's talent which allowed me to lose myself so completely.
So don't go out and spoiler this read. Let yourself start out in the dark because once you see the light, it'll be dazzling indeed.
Subscribe for bonus content and insider scoops!
Twittering away...
Finally worked my way through my TBR pile to Keystone by Dannika Dark and I'm so glad I did! https://t.co/7mNkl5f3dP https://t.co/DQRCBD1xCf
- Sunday Feb 25 - 4:54pm
Husband just remembered that once, when asked what she wanted to be when she grew up, my kid replied, "I wanna be on stilts!" #soproud
- Friday Feb 23 - 9:25pm
https://t.co/1UHQhm57rN Cautiously optimistic about the premise
- Wednesday Feb 21 - 9:20pm
SPOILER ALERT! A fabulous video that you absolutely SHOULD NOT WATCH if you have not yet seen The Good Place s1 fin… https://t.co/Jqf3UnxHg3
- Tuesday Feb 20 - 4:15am
Lose yourself in a funny, sexy urban fantasy romance! The Unlikeable Demon Hunter: Crave releases Feb 20 and to cel… https://t.co/WPcUSnVRRu
- Sunday Feb 18 - 4:56pm
Tellulah's Old Darlings