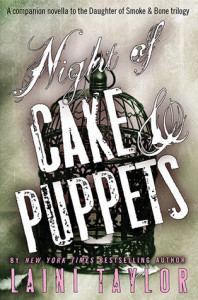 As some of you know from my social media, I was off in Europe in July. The trip was fabulous and I found a new city to love. Prague! Anyone been? Of course, while I was there, I had to re-read this novella because you know, set there. So let's see why it's so great.
Synopsis:
In Night of Cake & Puppets, Taylor brings to life a night only hinted at in the Daughter of Smoke & Bone trilogy — the magical first date of fan-favorites Zuzana and Mik. Told in alternating perspectives, it's the perfect love story for fans of the series and new readers alike.
Petite though she may be, Zuzana is not known for timidity. Her best friend, Karou, calls her "rabid fairy," her "voodoo eyes" are said to freeze blood, and even her older brother fears her wrath. But when it comes to the simple matter of talking to Mik, or "Violin Boy," her courage deserts her. Now, enough is enough. Zuzana is determined to meet him, and she has a fistful of magic and a plan.
It's a wonderfully elaborate treasure hunt of a plan that will take Mik all over Prague on a cold winter's night before finally leading him to the treasure: herself! Violin Boy's not going to know what hit him.
Why I Love It:
This may be the first novella here on Curl Up. Normally, novellas don't do much for me. Either I loved them and they end up being too short or I didn't, possibly because they were too short.
Night of Cake & Puppets is actually book 1.5 in Taylor's Daughter of Smoke and Bone series. It's a wonderful series (though I had quibbles), but this novella is my favourite. The good thing about diving in with this is that it's very self-contained. I don't think you need to have read book one to enjoy this. (Confession time: I actually liked this better than Daughter of Smoke and Bone.)
This story of Zuzana's and Mik's first date is dazzling and sweet and romantic and literally magical. It left me a puddle of swoon whose happy ripples were dancing through my blood. Taylor has such a wonderful way with words and she paints a sumptuous visual world. If I could, I'd totally lie and say this was my first date with my husband.
If you read this adorable treasure hunt where love is the prize and aren't enchanted, then seriously, I got nothing.
xo
Tellulah
Subscribe for bonus content and insider scoops!
Twittering away...
Husband just remembered that once, when asked what she wanted to be when she grew up, my kid replied, "I wanna be on stilts!" #soproud
- Friday Feb 23 - 9:25pm
https://t.co/1UHQhm57rN Cautiously optimistic about the premise
- Wednesday Feb 21 - 9:20pm
SPOILER ALERT! A fabulous video that you absolutely SHOULD NOT WATCH if you have not yet seen The Good Place s1 fin… https://t.co/Jqf3UnxHg3
- Tuesday Feb 20 - 4:15am
Lose yourself in a funny, sexy urban fantasy romance! The Unlikeable Demon Hunter: Crave releases Feb 20 and to cel… https://t.co/WPcUSnVRRu
- Sunday Feb 18 - 4:56pm
Bet you didn't know you could pair tap dancing and Star Wars! https://t.co/GS2qzvH7nJ
- Friday Feb 16 - 8:45pm
Tellulah's Old Darlings