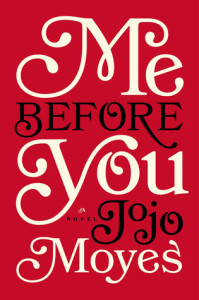 This book got me thinking a lot about laughing vs crying books. I think that funny books are perhaps a more subjective thing. I know that I've definitely found myself the only person laughing at times. But crying? Perhaps there is a common zeitgeist. Books that are triggers and find themselves spreading like wildfire. For all the right reasons, Me Before You, is one of them.
Synopsis:
Lou Clark knows lots of things. She knows how many footsteps there are between the bus stop and home. She knows she likes working in The Buttered Bun tea shop and she knows she might not love her boyfriend Patrick.
What Lou doesn't know is she's about to lose her job or that knowing what's coming is what keeps her sane.
Will Traynor knows his motorcycle accident took away his desire to live. He knows everything feels very small and rather joyless now and he knows exactly how he's going to put a stop to that.
What Will doesn't know is that Lou is about to burst into his world in a riot of colour. And neither of them knows they're going to change the other for all time.
Why I Love It:
Don't let the cover fool you. This isn't a "fluffy chick-lit" book, nor is it a romance. At it's heart it's about two people living small, constrained lives for very different reasons. With Lou, it's by choice for a number of reasons. For Will, an accident left him a quadriplegic. Definitely not a choice for this former adventure traveller and live life kind of guy.
The story becomes the change that each exerts on the other, with a really interesting through-line discourse about a very controversial subject. I'm thrilled that events play out as they do. I think to do otherwise would have undermined the ultimate message of the book.
And in case you're getting worried that it's in any way preachy – don't. Preachy books are not my thing. Me Before You is heartfelt, and funny, both in ways which stem absolutely from character. Moyes hits all the right notes with this story. My only bump was that there were a few chapters from different character POV's that I really didn't need. Other than that, so so satisfying.
Subscribe for bonus content and insider scoops!
Twittering away...
SPOILER ALERT! A fabulous video that you absolutely SHOULD NOT WATCH if you have not yet seen The Good Place s1 fin… https://t.co/Jqf3UnxHg3
- Tuesday Feb 20 - 4:15am
Lose yourself in a funny, sexy urban fantasy romance! The Unlikeable Demon Hunter: Crave releases Feb 20 and to cel… https://t.co/WPcUSnVRRu
- Sunday Feb 18 - 4:56pm
Bet you didn't know you could pair tap dancing and Star Wars! https://t.co/GS2qzvH7nJ
- Friday Feb 16 - 8:45pm
Better late than never! Discovered the Haim Time podcast on Beats One. So good!
- Friday Feb 16 - 6:45pm
SNL, why did you cut this?! https://t.co/zW8qYyVfc0
- Tuesday Feb 13 - 12:45am
Tellulah's Old Darlings