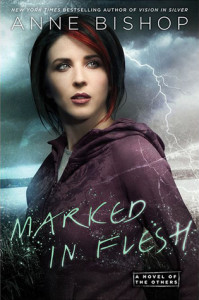 Three things you gotta know about Marked in Flesh: a) don't love the title, b) it's actually book 4 in the series, and c) it is such a phenomenal series that I am yet again taking the opportunity to pimp it out.
Synopsis:
For centuries, the Others and humans have lived side by side in uneasy peace. But when humankind oversteps its bounds, the Others will have to decide how much humanity they're willing to tolerate—both within themselves and within their community…
Since the Others allied themselves with the cassandra sangue, the fragile yet powerful human blood prophets who were being exploited by their own kind, the delicate dynamic between humans and Others changed. Some, like Simon Wolfgard, wolf shifter and leader of the Lakeside Courtyard, and blood prophet Meg Corbyn, see the new, closer companionship as beneficial—both personally and practically.
But not everyone is convinced. A group of radical humans is seeking to usurp land through a series of violent attacks on the Others. What they don't realize is that there are older and more dangerous forces than shifters and vampires protecting the land that belongs to the Others—and those forces are willing to do whatever is necessary to protect what is theirs…
Why I Love It:
I really enjoy stories that explore humanity from an outsider's perspective and this series does that brilliantly. Who are truly the monsters, the animals, the others? Sci-fi and fantasy have always excelled at using "alien" races/species to explore the best and worst of our own traits and tendencies, and Bishop's series definitely continues in that tradition.
You have to read this series in order. Only that way will you understand and appreciate the clever build of both global and interpersonal conflict as Others and humans come together to create a new and fragile understanding and appreciation of each other. Like the best of these stories, we, the reader, are in it for the way in which that world strife becomes so personal to the characters we love, most notably Simon and Meg. Don't come to these books looking for the typical paranormal romance because you won't find it. Their relationship over the series unfolds with such caution, curiosity, and care and is all the more interesting for it.
I've discussed the first two books before if you want a sense of what you're getting into. My general quibble with the second to last (proposed) book in a series is that it all too often feels like filler. A whole bunch of anticipation for the actual battle to come. That is absolutely not the case here. In fact, I'm completely baffled as to where book five might actually go. If I did have a complaint, it is that there are so many characters to keep track of by this point, that our Simon and Meg time feels compromised. However, that feels like it will be addressed in a profound way in the final book, so as long as the wait doesn't kill me, all good.
Subscribe for bonus content and insider scoops!
Tellulah's Old Darlings