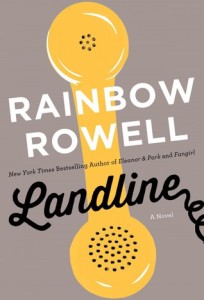 Happy Mother's Day to all you fabulous moms out there. I thought it was fitting that I feature a book with an ordinary (excellent) mom at its heart. Welcome to Landline.
Synopsis:
Georgie McCool knows her marriage is in trouble; it has been in trouble for a long time. She still loves her husband, Neal, and Neal still loves her, deeply — but that almost seems beside the point now.
Maybe that was always beside the point.
Two days before they're supposed to visit Neal's family in Omaha for Christmas, Georgie tells Neal that she can't go. She's a TV writer, and something's come up on her show; she has to stay in Los Angeles. She knows that Neal will be upset with her — Neal is always a little upset with Georgie — but she doesn't expect him to pack up the kids and go home without her.
When her husband and the kids leave for the airport, Georgie wonders if she's finally done it. If she's ruined everything.
That night, Georgie discovers a way to communicate with Neal in the past. It's not time travel, not exactly, but she feels like she's been given an opportunity to fix her marriage before it starts…
Is that what she's supposed to do?
Or would Georgie and Neal be better off if their marriage never happened?
Why I Love It:
It's kind of funny that as a mom and a romance junkie, I don't like romances featuring moms. I don't know why that is but I like my love stories child-free. Actually, I don't even particularly like it if he's the one with kids either. I'm sure there's something to be psychoanalyzed there.
Then I read Landline with its (normally) triple turn-off of mom, kids, and marriage on the rocks. Really, the only reason I read it was because Rainbow Rowell had written it. Yeah, so this turned into an early morning, one-sitting, breakfast-put-on-hold, devouring the story. And now I'll really never be able to read this kind of story again because Rowell has ruined all others by setting the bar so insanely high.
Landline is sharply funny and achingly sweet. I rooted so hard for Georgie and Neil. This is a grown up book. Not because there is adult content but because it's an honest look at adult relationships – how they can be so much harder than ever imagined and so much more rewarding. How relationships don't end with the "get together/get married" HEA, they start there.
Lovely and unexpected, Landline isn't for kids. And that's just fine.
Subscribe for bonus content and insider scoops!
Twittering away...
Finally worked my way through my TBR pile to Keystone by Dannika Dark and I'm so glad I did! https://t.co/7mNkl5f3dP https://t.co/DQRCBD1xCf
- Sunday Feb 25 - 4:54pm
Husband just remembered that once, when asked what she wanted to be when she grew up, my kid replied, "I wanna be on stilts!" #soproud
- Friday Feb 23 - 9:25pm
https://t.co/1UHQhm57rN Cautiously optimistic about the premise
- Wednesday Feb 21 - 9:20pm
SPOILER ALERT! A fabulous video that you absolutely SHOULD NOT WATCH if you have not yet seen The Good Place s1 fin… https://t.co/Jqf3UnxHg3
- Tuesday Feb 20 - 4:15am
Lose yourself in a funny, sexy urban fantasy romance! The Unlikeable Demon Hunter: Crave releases Feb 20 and to cel… https://t.co/WPcUSnVRRu
- Sunday Feb 18 - 4:56pm
Tellulah's Old Darlings