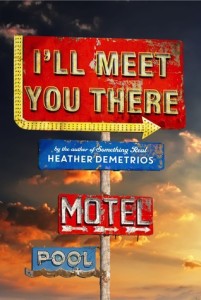 Straddling that cusp between YA and new adult, I picked up I'll Meet You There not sure how I'd feel about it. And then proceeded to rapidly fall in love.
Synopsis:
If seventeen-year-old Skylar Evans were a typical Creek View girl, her future would involve a double-wide trailer, a baby on her hip, and the graveyard shift at Taco Bell. But after graduation, the only thing standing between straightedge Skylar and art school are three minimum-wage months of summer. Skylar can taste the freedom—that is, until her mother loses her job and everything starts coming apart. Torn between her dreams and the people she loves, Skylar realizes everything she's ever worked for is on the line.
Nineteen-year-old Josh Mitchell had a different ticket out of Creek View: the Marines. But after his leg is blown off in Afghanistan, he returns home, a shell of the cocksure boy he used to be. What brings Skylar and Josh together is working at the Paradise—a quirky motel off California's dusty Highway 99. Despite their differences, their shared isolation turns into an unexpected friendship and soon, something deeper.
Why I Love It:
Wow. This is not my usual type of story, however I find myself lost for words and consumed with feels for I'll Meet You There, the story of Skylar, on the verge of getting out of the trailer park and terrified that dream won't become a reality, and Josh, who escaped into the military and who has returned injured. It would be so easy for this story to be a melodramatic after-school special but in Demetrios' talented hands it becomes a genuine journey of hope and heartbreak.
The author's own military family upbringing combined with the copious amount of research she undertook for this story is evident. Josh's story isn't reduced to "Oorah, America!" His situation, both in what drove him to enlist and the conditions and emotions entangled in his return are complex and prickly and tough and believable. As is Skylar's story. These two are fragile, flawed young adults on the cusp of a new path into adulthood they both yearn for and aren't fully convinced they deserve.
Pick up this book. Read this lovely, funny, heartbreaking, hopeful story.
Subscribe for bonus content and insider scoops!
Twittering away...
https://t.co/1UHQhm57rN Cautiously optimistic about the premise
- Wednesday Feb 21 - 9:20pm
SPOILER ALERT! A fabulous video that you absolutely SHOULD NOT WATCH if you have not yet seen The Good Place s1 fin… https://t.co/Jqf3UnxHg3
- Tuesday Feb 20 - 4:15am
Lose yourself in a funny, sexy urban fantasy romance! The Unlikeable Demon Hunter: Crave releases Feb 20 and to cel… https://t.co/WPcUSnVRRu
- Sunday Feb 18 - 4:56pm
Bet you didn't know you could pair tap dancing and Star Wars! https://t.co/GS2qzvH7nJ
- Friday Feb 16 - 8:45pm
Better late than never! Discovered the Haim Time podcast on Beats One. So good!
- Friday Feb 16 - 6:45pm
Tellulah's Old Darlings