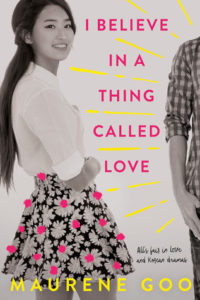 It feels like ages since I've shared a YA book with you, darlings, doesn't it? I'm absolutely delighted to put I Believe in Thing Called Love on your radar because it's a must-read.
Synopsis:
Desi Lee believes anything is possible if you have a plan. That's how she became student body president. Varsity soccer star. And it's how she'll get into Stanford. But—she's never had a boyfriend. In fact, she's a disaster in romance, a clumsy, stammering humiliation magnet whose botched attempts at flirting have become legendary with her friends. So when the hottest human specimen to have ever lived walks into her life one day, Desi decides to tackle her flirting failures with the same zest she's applied to everything else in her life. She finds guidance in the Korean dramas her father has been obsessively watching for years—where the hapless heroine always seems to end up in the arms of her true love by episode ten. It's a simple formula, and Desi is a quick study. Armed with her "K Drama Steps to True Love," Desi goes after the moody, elusive artist Luca Drakos—and boat rescues, love triangles, and staged car crashes ensue. But when the fun and games turn to true feels, Desi finds out that real love is about way more than just drama.
Why I Love It:
Not only is I Believe in a Thing Called Love thoroughly charming, it combines three of my favourite things: smart girls, Korean dramas, and YA romantic comedy. As someone who was both book smart yet somewhat hopeless with guys in high school and very fond of lists, I was totally onboard with Desi's plan to snag her crush using a step-by-step breakdown of Korean romantic comedy shows. (Plus I've seen most of the ones mentioned in the book as well as in the handy dandy guide at the back so that was fun.)
Of course it's going to go wrong; all the best screwball comedies do. Goo has a perfect touch with tone and bringing these characters to life. I was totally invested in each and every one of them and really applaud how even secondary characters were imbued with grudges and insecurities.
There are a lot of YA books where the hot broody guy gets the smart girl and while that's fun in a book, there is definitely a suspension of disbelief that has to happen since in real life it would be all "sure, we're teamed up for this project. You do the work and let me know when it's done." Goo makes Luca crushworthy while still writing an actual teen boy. He's not hot, mysterious, and broody. Okay, maybe a bit mysterious, but Desi soon gets to the bottom of that. He's warm, funny, empathetic, and passionate about his art. He also has friends.
I love that both these characters have friends.
And Desi? How much did I adore her. Her relationship with her father made me smile and I just wanted to hug this list-making little control freak with the giant heart. Funny, smart, this is the girl I would have been BFFs with–then and now.
So check out this book and if you don't yet know the joys of KDramas, prepare yourself to fall down that rabbit hole, too.
Subscribe for bonus content and insider scoops!
Tellulah's Old Darlings