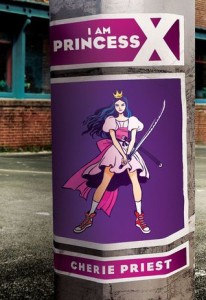 I am Princess X is a fabulous YA novel about friendship not romance. This was a one-sitting, massive-grin-of-happiness-for-having-discovered-this-story read.
Synopsis:
Best friends, big fans, a mysterious webcomic, and a long-lost girl collide in this riveting novel, perfect for fans of both Cory Doctorow and Sarah Dessen; illustrated throughout with comics.
Once upon a time, two best friends created a princess together. Libby drew the pictures, May wrote the tales, and their heroine, Princess X, slayed all the dragons and scaled all the mountains their imaginations could conjure.
Once upon a few years later, Libby was in the car with her mom, driving across the Ballard Bridge on a rainy night. When the car went over the side, Libby passed away, and Princess X died with her.
Once upon a now: May is sixteen and lonely, wandering the streets of Seattle, when she sees a sticker slapped in a corner window.
Princess X?
When May looks around, she sees the Princess everywhere: Stickers. Patches. Graffiti. There's an entire underground culture, focused around a webcomic at IAmPrincessX.com. The more May explores the webcomic, the more she sees disturbing similarities between Libby's story and Princess X online. And that means that only one person could have started this phenomenon—her best friend, Libby, who lives.
Why I Love It:
Okay, where to start with the gushing. First off, you've got these two kids Libby and May exiled out of gym class who start making up stories together and so a best friendship begins. Except, Libby dies … or so May thinks (kinda) until she starts seeing graffiti and stickers featuring the main character of all their stories – Princess X.
Let the mystery begin.
Told in both prose and comic form, I Am Princess X is a sheer delight (and a super quick read). Did May's voice sound a bit young sometimes for a 17-year-old? Maybe, but I didn't care. You know how the great thing about Frozen is that the ultimate prize is love but NOT romantic love? Same thing here. It might seem weird that I champion that, given all I write are romantic HEAs, but I am such a believer in the empowerment and importance of female friendships – especially positive portrayals for young women. For that alone, this book gets all the stars.
Subscribe for bonus content and insider scoops!
Twittering away...
Finally worked my way through my TBR pile to Keystone by Dannika Dark and I'm so glad I did! https://t.co/7mNkl5f3dP https://t.co/DQRCBD1xCf
- Sunday Feb 25 - 4:54pm
Husband just remembered that once, when asked what she wanted to be when she grew up, my kid replied, "I wanna be on stilts!" #soproud
- Friday Feb 23 - 9:25pm
https://t.co/1UHQhm57rN Cautiously optimistic about the premise
- Wednesday Feb 21 - 9:20pm
SPOILER ALERT! A fabulous video that you absolutely SHOULD NOT WATCH if you have not yet seen The Good Place s1 fin… https://t.co/Jqf3UnxHg3
- Tuesday Feb 20 - 4:15am
Lose yourself in a funny, sexy urban fantasy romance! The Unlikeable Demon Hunter: Crave releases Feb 20 and to cel… https://t.co/WPcUSnVRRu
- Sunday Feb 18 - 4:56pm
Tellulah's Old Darlings