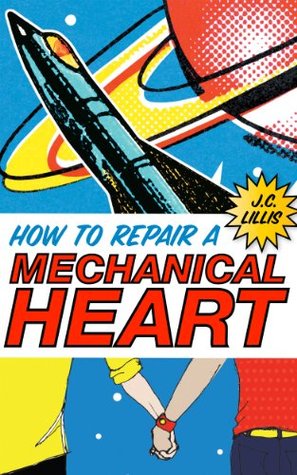 Re-reading How to Repair a Mechanical Heart, I was reminded how it's seven kinds of awesome lovely. If you're in the mood for a sweet, funny, YA romance and have ever been part of a fandom, then this is the book for you.
Synopsis:
Eighteen-year-old Castaway Planet fans Brandon and Abel hate bad fan fiction—especially when it pairs their number-one TV crushes of all time, dashing space captain Cadmus and dapper android Sim. As co-runners of the Internet's third most popular Castaway Planet vlog, they love to spar with the "Cadsim" fangirls who think Cadmus will melt Sim's mechanical heart by the Season 5 finale. This summer, Brandon and Abel have a mission: hit the road in an RV to follow the traveling Castaway Planet convention, interview the actors and showrunner, and uncover proof that a legit Cadsim romance will NEVER, EVER HAPPEN.
A Brandon and Abel romance: also not happening. Brandon's sick of his struggle to make "gay and Catholic" compute, so it's safer to love a TV android. Plus Abel's got a hot new boyfriend with a phoenix tattoo, and how can Brandon compete with that? But when mysterious messages about them start popping up in the fan community, they make a shocking discovery that slowly forces their real feelings to the surface. Before they get to the last Castaway Planet convention, Brandon's going to find out the truth: can a mechanical heart be reprogrammed, or will his first shot at love be a full system failure?
Why I Love It:
This book hits the ground running with humour and heart and doesn't let up until it's over. Even if all the fandom stuff wasn't in it, (which just amps the excellence up, especially to an old-timey fangirl like myself) this story would be worth it for Brandon's and Abel's romance alone.
Oh, the yearning. Oh, the feels. Watching the two of them fall in love and figure things out is the most delicious type of torture. But in J.C. Lillis' capable hands, the tone never gets schmaltzy or earnest. I am not a fan of earnest. Yes, a lot of humour comes from their interaction, but where things really get hilarious is with the competing fandom factions of the Castaway Planet TV show.
If you've ever been part of a fan forum, then the texts from the various types of fan will ring true and hopefully have you laughing as hard as I was. But in the best and most loving way. And yes, as Brandon and Abel's get further down the rabbit hole of convention stops, antics escalate as they sometimes do when passion and protectiveness of a beloved show is at stake.
I'm thrilled to have read such great m/m YA and this book is definitely in that pile.
Subscribe for bonus content and insider scoops!
Twittering away...
https://t.co/1UHQhm57rN Cautiously optimistic about the premise
- Wednesday Feb 21 - 9:20pm
SPOILER ALERT! A fabulous video that you absolutely SHOULD NOT WATCH if you have not yet seen The Good Place s1 fin… https://t.co/Jqf3UnxHg3
- Tuesday Feb 20 - 4:15am
Lose yourself in a funny, sexy urban fantasy romance! The Unlikeable Demon Hunter: Crave releases Feb 20 and to cel… https://t.co/WPcUSnVRRu
- Sunday Feb 18 - 4:56pm
Bet you didn't know you could pair tap dancing and Star Wars! https://t.co/GS2qzvH7nJ
- Friday Feb 16 - 8:45pm
Better late than never! Discovered the Haim Time podcast on Beats One. So good!
- Friday Feb 16 - 6:45pm
Tellulah's Old Darlings