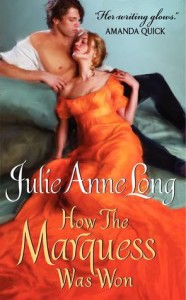 Do you have those genres that are your go-to happy place but the downside is that you've read so many of those type of books that sometimes it feels like you've read all the gems and will never be truly excited by another one ever again? Class? Bueller? Anyone? Welcome to me, historical romance, and the joy that is How the Marquess was won.
Synopsis:
The Scandal Sheets call him Lord Ice.
Ruthless, cold, precise, Julian Spenser, Marquess Dryden, tolerates only the finest– in clothes, in horseflesh, in mistresses. And now he's found the perfect bride, the one whose dowry will restore his family's shattered legacy and bring him peace at last: the exquisite heiress Lisbeth Redmond.
She's about to play with fire…
But one unforgettable encounter with Lisbeth's paid companion, Phoebe Vale, and the Marquess is undone. This quiet girl with the wicked smile and a wit to match is the first person to see through the icy facade to the fiery man beneath. But their irresistible attraction is a torment as sweet as it is dangerous, for surrendering to their desire could mean losing everything else they ever wanted.
Why I Love It:
This book is a slow burn, stoking and building to a blazing inferno of desire. It was just so much fun. Phoebe rocks as a main character. First off, she's the smart and extremely witty instructor at a school for rich young women, overlooked by the aristocracy. I'm a sucker for that trope. You all know this. But, what was super refreshing was that this was no genteel miss. No "oh look, she's actually aristocratic herself." Nope. She was born in Seven Dials, the hellhole of London in the 1800s and that most definitely infuses her personality in all types of ways.
Pitted against Lord Ice, of course she's going to melt this glacier. That's what these women do. Again, I have to go back to the sense of fun. I haven't enjoyed myself this much in a long time, watching a rigid prince of the aristocracy lose all sense of control. He had to work to keep up with Phoebe's cleverness and that was delightful as well.
There are no weird subplots involving murder and mayhem. How the Marquess was won is character driven romance at its finest.
Subscribe for bonus content and insider scoops!
Twittering away...
https://t.co/1UHQhm57rN Cautiously optimistic about the premise
- Wednesday Feb 21 - 9:20pm
SPOILER ALERT! A fabulous video that you absolutely SHOULD NOT WATCH if you have not yet seen The Good Place s1 fin… https://t.co/Jqf3UnxHg3
- Tuesday Feb 20 - 4:15am
Lose yourself in a funny, sexy urban fantasy romance! The Unlikeable Demon Hunter: Crave releases Feb 20 and to cel… https://t.co/WPcUSnVRRu
- Sunday Feb 18 - 4:56pm
Bet you didn't know you could pair tap dancing and Star Wars! https://t.co/GS2qzvH7nJ
- Friday Feb 16 - 8:45pm
Better late than never! Discovered the Haim Time podcast on Beats One. So good!
- Friday Feb 16 - 6:45pm
Tellulah's Old Darlings