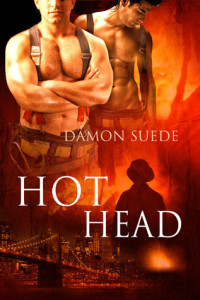 Since there hasn't been an m/m recommendation here on Curl up since July, let's have one, shall we? Let me guess Tellulah, you say saucily, it's hot fun? Well, o snarky one, it is hot, but fun? Not really.
Synopsis:
Where there's smoke, there's fire…
Since 9/11, Brooklyn firefighter Griff Muir has wrestled with impossible feelings for his best friend and partner at Ladder 181, Dante Anastagio. Unfortunately, Dante is strictly a ladies' man, and the FDNY isn't exactly gay-friendly. For ten years, Griff has hidden his heart in a half-life of public heroics and private anguish.
Griff's caution and Dante's cockiness make them an unbeatable team. To protect his buddy, there's nothing Griff wouldn't do… until a nearly bankrupt Dante proposes the worst possible solution: HotHead.com, a gay porn website where uniformed hunks get down and dirty. And Dante wants them to appear there—together. Griff may have to guard his heart and live out his darkest fantasies on camera. Can he rescue the man he loves without wrecking their careers, their families, or their friendship?
Why I Love It:
Hot Head is a painfully accurate portrayal of the heartache involved in being in love with a best friend who does not, cannot, return your feelings. And yes, I'm speaking from personal experience here. In Griff's case, it's because his best friend Dante is straight. A common trope in these m/m romances. Like New Yorker Italian hot boy straight. If it comes down to speaking up and losing his best friend, or keeping silent, he'll take the silence, thanks. (Again, been there, done that. It sucks.)
There's another reason for Griff keeping quiet though, beyond sexual preference, and that's because this story is set in the world of NY firefighters with it's systemic homophobia. Speaking up, having Dante actually return his feelings, could lead to a gay bashing of deadly proportions. It makes the stakes real in a way that many other "in love with my best friend" stories miss.
Suede's writing is excellent. He's obviously done his research both in terms of what being a NY firefighter in a post 9/11 world is like and the visceral dangers faced every time they go out on a call. There is a rawness and roughness to the writing that I realized has been missing for me from much of the female authored m/m stuff I've read. Not good or bad either way, just found it interesting to note the difference.
And if what you want is hot, then I promise you this story does not disappoint. But it's so much more than that.
Subscribe for bonus content and insider scoops!
Twittering away...
https://t.co/1UHQhm57rN Cautiously optimistic about the premise
- Wednesday Feb 21 - 9:20pm
SPOILER ALERT! A fabulous video that you absolutely SHOULD NOT WATCH if you have not yet seen The Good Place s1 fin… https://t.co/Jqf3UnxHg3
- Tuesday Feb 20 - 4:15am
Lose yourself in a funny, sexy urban fantasy romance! The Unlikeable Demon Hunter: Crave releases Feb 20 and to cel… https://t.co/WPcUSnVRRu
- Sunday Feb 18 - 4:56pm
Bet you didn't know you could pair tap dancing and Star Wars! https://t.co/GS2qzvH7nJ
- Friday Feb 16 - 8:45pm
Better late than never! Discovered the Haim Time podcast on Beats One. So good!
- Friday Feb 16 - 6:45pm
Tellulah's Old Darlings