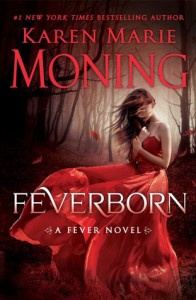 For my fellow Fever series addicts, are you scared to pick up Feverborn after Burned? Well, let mama dispel your fears.
Synopsis:
In Karen Marie Moning's latest installment of the epic #1 New York Times bestselling Fever series, the stakes have never been higher and the chemistry has never been hotter. Hurtling us into a realm of labyrinthine intrigue and consummate seduction, FEVERBORN is a riveting tale of ancient evil, lust, betrayal, forgiveness and the redemptive power of love.
When the immortal race of the Fae destroyed the ancient wall dividing the worlds of Man and Faery, the very fabric of the universe was damaged and now Earth is vanishing bit by bit. Only the long-lost Song of Making—a haunting, dangerous melody that is the source of all life itself—can save the planet.
But those who seek the mythic Song—Mac, Barrons, Ryodan and Jada—must contend with old wounds and new enemies, passions that burn hot and hunger for vengeance that runs deep. The challenges are many: The Keltar at war with nine immortals who've secretly ruled Dublin for eons, Mac and Jada hunted by the masses, the Seelie queen nowhere to be found, and the most powerful Unseelie prince in all creation determined to rule both Fae and Man. Now the task of solving the ancient riddle of the Song of Making falls to a band of deadly warriors divided among—and within—themselves.
Once a normal city possessing a touch of ancient magic, Dublin is now a treacherously magical city with only a touch of normal. And in those war-torn streets, Mac will come face to face with her most savage enemy yet: herself.
Why I Love It:
Once upon a time there were the original 5 Fever books that blew my mind and immediately became one of my all-time favourite series. Then ICED happened. That made me scratch my head. Not because of Dani – I actually was quite happy to have her narrate it and have her own spin off, but because of a couple of major WTF moments that to me, went against my understanding of other characters.
Then came Burned. I don't even know what that was. Not sure why the Dani storyline was scrapped and we returned to Mac since I felt like her arc was perfectly complete as a main character after book five. However, more Mac and Barrons couldn't be a bad thing and so I happily dived in. And was seriously confused as to who this Mac was. KMM's reframing of certain characters in ICED was nothing compared to whatever odd version of Mac narrated Burned. She really lost me on this book and I wasn't sure I'd be back.
Okay, who are we kidding? Of course I'd be back because that's what I do. But I was very very nervous picking up Feverborn. The first couple of chapters didn't do much to reassure me since I felt like it was the Burned version of Mac going to narrate the entire thing and not the essential Mac. However somewhere in that beginning part, Mac fell back into place and from that point on, I was all in.
This is quite the ensemble tale and I was fine with that because I enjoyed everyone's storyline. The characters made sense to me again. There was even enough Dani to give me hope for future storylines. I loved being in their heads and dear God, how did Barrons get even hotter?
My only complaint was that the book ended really abruptly. I would have preferred to lose the *insert tense music/tune in next time* of it and actually play things out a bit more because I think that most of these storylines needed to move a bit further along in this book. There needed to be more balance between them.
Anyhow, I really loved it and can't wait for the next one. I just hope KMM fleshes things out equally across the board next time. So my verdict for those of you nervous about continuing with this series is: Keep at it!
Subscribe for bonus content and insider scoops!
Twittering away...
https://t.co/1UHQhm57rN Cautiously optimistic about the premise
- Wednesday Feb 21 - 9:20pm
SPOILER ALERT! A fabulous video that you absolutely SHOULD NOT WATCH if you have not yet seen The Good Place s1 fin… https://t.co/Jqf3UnxHg3
- Tuesday Feb 20 - 4:15am
Lose yourself in a funny, sexy urban fantasy romance! The Unlikeable Demon Hunter: Crave releases Feb 20 and to cel… https://t.co/WPcUSnVRRu
- Sunday Feb 18 - 4:56pm
Bet you didn't know you could pair tap dancing and Star Wars! https://t.co/GS2qzvH7nJ
- Friday Feb 16 - 8:45pm
Better late than never! Discovered the Haim Time podcast on Beats One. So good!
- Friday Feb 16 - 6:45pm
Tellulah's Old Darlings