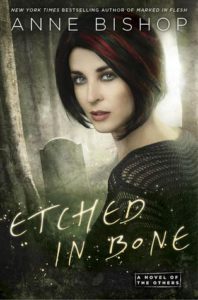 Etched in Bone completes The Others series with five brilliant books and done. And I, for one, could not have asked for a better ending.
Synopsis:
After a human uprising was brutally put down by the Elders—a primitive and lethal form of the Others—the few cities left under human control are far-flung. And the people within them now know to fear the no-man's-land beyond their borders—and the darkness…
As some communities struggle to rebuild, Lakeside Courtyard has emerged relatively unscathed, though Simon Wolfgard, its wolf shifter leader, and blood prophet Meg Corbyn must work with the human pack to maintain the fragile peace. But all their efforts are threatened when Lieutenant Montgomery's shady brother arrives, looking for a free ride and easy pickings.
With the humans on guard against one of their own, tensions rise, drawing the attention of the Elders, who are curious about the effect such an insignificant predator can have on a pack. But Meg knows the dangers, for she has seen in the cards how it will all end—with her standing beside a grave.
Why I Loved It:
You know how with a lot of series, the last book is all about the big battle, and then there's only a small section of emotional wrap up? Not here, baby! The big picture stuff was pretty well resolved in book four, leaving Bishop free to go back to the core relationships in the Lakeside Courtyard. And since I love these characters beyond belief, I was a very happy camper.
Yes, there is still peril to the Meg, humanity and the smaller shifters, but the focus stays on our main cast. The world building in this series is brilliant, the characters, both human and shifter are treated with poignancy and heart. They experience such aching growth and the interpersonal dynamics and romance will have you longing for more.
Here are my other reviews of this series: book one and book four.
If you haven't picked it up yet, the series is complete so now is the time. And if you need more convincing, tell me what I need to say to get you to buy book one (Written in Red). My heart was full of joy when I finished the book and yet I was so sad that it was all over, but hey, that's what re-reads are for.
Subscribe for bonus content and insider scoops!
Twittering away...
Learned my 16 yr old thought the guys from One Direction were named Wade & Kyle. Even I know better than that. Good job, honey. Good job.
- Tuesday Jan 16 - 12:55am
I Believe in a Thing Called Love by @mauxbot is a total delight and I cannot pimp it out hard enough! Read this boo… https://t.co/RbHKKTkU7a
- Sunday Jan 14 - 5:58pm
These are fantastic! https://t.co/cVCSZiTWhP
- Friday Jan 12 - 5:35pm
Prince owns Gershwin's Summertime in jazz piano number. Gorgeous! https://t.co/M8fVFeOYoA
- Thursday Jan 11 - 2:35am
Yes to everything about this article! https://t.co/H6xQ6KcArV
- Monday Jan 8 - 8:35pm
Tellulah's Old Darlings