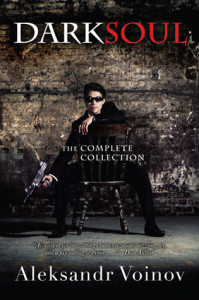 Dark Soul may be the first erotica featured on Curl up with a good book Sunday. I have a hesitant relationship with the stuff. So how come this one made the cut? Let's find out.
Synopsis:
Love lights even the darkest soul.
A killer's moral compass rarely points true, and among made men, being gay is a capital crime. But Silvio Spadaro, deadly prodigy and heir to a Family fortune, is determined to find his own way–at the feet of the man he loves or by the barrel of a gun–no matter the dangers or costs.
Stefano Marino lives a comfortable–some might even say enviable–life. As a mob boss at the top of the food chain, he has it all: money, respect, a beautiful wife he loves as much now as the day they wed. But he also has a turf war on his hands, and far too soft a heart for this dark business.
When Silvio is sent to help Stefano with his turf war, sparks fly. Stefano loves his wife, but he wants Silvio. It's a desire he hardly knows how to process, but Silvio, ever the patient predator, maneuvers Stefano closer and closer to his bed each day. Stefano resists; giving in to these dark desires means giving up on his marriage, and exposure would surely mean death. Yet there's no denying Silvio's magnetic pull, or the long-repressed urges inside himself. Yielding is inevitable, but he may yet find a way to hold on to everything–and everyone–he loves.
Why I Loved It:
I've found that I like the idea of erotica in theory. Submission stories tend to make me scratch my head and go "why?" And the language just makes me snicker, which is totally not conducive to whatever sexy time vibe the author is going for.
With this series, I actually bought the stories on Kindle one by one, and had I realized they were all shorts, I probably wouldn't have spent the cash because they are pricey as serialized novellas, but that would have been a damn shame.
Holy dark and twisted, Batman!
I really liked this series. A lot. Liked the mob setting, definitely liked Silvio the messed up, submissive assassin. There is a smorgasbord of kinks in these stories. Some may not be to your tastes but if you like m/m erotica then you'll probably find something to enjoy.
I wish it had been longer overall and didn't love the final installation. Although I don't know how else it could have played out in order to get an HEA. I just thought it went too much into the logistics of plot and strayed from the emotional centre. I don't care what anyone says – no one is reading erotica for plot and structure. 😛 But, yeah. This was worth it.
Subscribe for bonus content and insider scoops!
Twittering away...
Finally worked my way through my TBR pile to Keystone by Dannika Dark and I'm so glad I did! https://t.co/7mNkl5f3dP https://t.co/DQRCBD1xCf
- Sunday Feb 25 - 4:54pm
Husband just remembered that once, when asked what she wanted to be when she grew up, my kid replied, "I wanna be on stilts!" #soproud
- Friday Feb 23 - 9:25pm
https://t.co/1UHQhm57rN Cautiously optimistic about the premise
- Wednesday Feb 21 - 9:20pm
SPOILER ALERT! A fabulous video that you absolutely SHOULD NOT WATCH if you have not yet seen The Good Place s1 fin… https://t.co/Jqf3UnxHg3
- Tuesday Feb 20 - 4:15am
Lose yourself in a funny, sexy urban fantasy romance! The Unlikeable Demon Hunter: Crave releases Feb 20 and to cel… https://t.co/WPcUSnVRRu
- Sunday Feb 18 - 4:56pm
Tellulah's Old Darlings