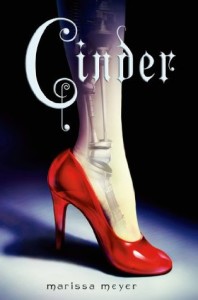 For the final Curl Up of 2015, I thought I'd share a series that I've loved since the release of book one, Cinder in 2012. I was just waiting to finish the final book, and with that done this week, I can attest to the overall awesomeness of it.
Synopsis:
Humans and androids crowd the raucous streets of New Beijing. A deadly plague ravages the population. From space, a ruthless lunar people watch, waiting to make their move. No one knows that Earth's fate hinges on one girl.
Cinder, a gifted mechanic, is a cyborg. She's a second-class citizen with a mysterious past, reviled by her stepmother and blamed for her stepsister's illness. But when her life becomes intertwined with the handsome Prince Kai's, she suddenly finds herself at the center of an intergalactic struggle, and a forbidden attraction. Caught between duty and freedom, loyalty and betrayal, she must uncover secrets about her past in order to protect her world's future.
Why I Love It:
Princes and witches and cyborgs, oh my! This cyborg retelling of Cinderalla is one of the best re-imaginings of any fairy tale ever. It has the perfect amount of post-apocalyptic sci-fi tech and cultural fusion that I love to see. Each of the successive books in the series introduces a new fairy tale namely Red Riding Hood, Rapunzel, and Snow White, with Meyer weaving them all into a tale of revolution and empowerment. While her interpretations are so fresh and clever, what really gets me are those moments when I realized that a canonical fairy tale plot detail was playing out.
Her writing is beautiful. Next to her, I got nothing. But Meyer also shines in her characters. (Damn her and her talents.) For the fangirls (and fanboys) who love their ships, there are four pairs of lovers to choose from. Pick your favs! Yes, this is YA, but really should be read by anyone, young or old, who ever loved fairy tales. And who wants to fall in love with this one.
Happy holidays, Darlings!
xo
Tellulah
Subscribe for bonus content and insider scoops!
Tellulah's Old Darlings