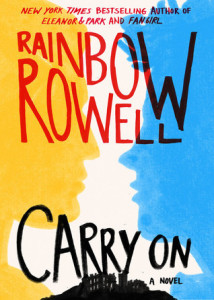 Have you all read Rainbow Rowell's Fangirl? If not, you need to get on that. Anyhoo, in Fangirl, the main character Cath writes fanfic about this Harry Potter-esque world featuring Simon Snow and his arch-nemesis (and roommate) Baz. Rowell, in her cheeky brilliance went on to actually write the tale of Simon and Baz in Carry On.
Synopsis:
Simon Snow is the worst chosen one who's ever been chosen.
That's what his roommate, Baz, says. And Baz might be evil and a vampire and a complete git, but he's probably right.
Half the time, Simon can't even make his wand work, and the other half, he sets something on fire. His mentor's avoiding him, his girlfriend broke up with him, and there's a magic-eating monster running around wearing Simon's face. Baz would be having a field day with all this, if he were here—it's their last year at the Watford School of Magicks, and Simon's infuriating nemesis didn't even bother to show up.
Carry On is a ghost story, a love story, a mystery and a melodrama. It has just as much kissing and talking as you'd expect from a Rainbow Rowell story—but far, far more monsters.
Why I Love It:
Expressing my love of this book would take hours. First off, not only are there so many sly allusions to the HP series, but she plays with all the chosen one tropes in general. Second of all, this is a super sweet YAish m/m romance which also deals with identity, the notion of being special, and what happens to all those kids who fulfill their destiny and have to get up the next morning?
Funny, lovely, witty, if you've ever been a fan of Harry Potter or chosen one tales in general, then I can't recommend this book enough. And you don't need to have read Fangirl to enjoy this. It stands on its own.
Subscribe for bonus content and insider scoops!
Twittering away...
Husband just remembered that once, when asked what she wanted to be when she grew up, my kid replied, "I wanna be on stilts!" #soproud
- Friday Feb 23 - 9:25pm
https://t.co/1UHQhm57rN Cautiously optimistic about the premise
- Wednesday Feb 21 - 9:20pm
SPOILER ALERT! A fabulous video that you absolutely SHOULD NOT WATCH if you have not yet seen The Good Place s1 fin… https://t.co/Jqf3UnxHg3
- Tuesday Feb 20 - 4:15am
Lose yourself in a funny, sexy urban fantasy romance! The Unlikeable Demon Hunter: Crave releases Feb 20 and to cel… https://t.co/WPcUSnVRRu
- Sunday Feb 18 - 4:56pm
Bet you didn't know you could pair tap dancing and Star Wars! https://t.co/GS2qzvH7nJ
- Friday Feb 16 - 8:45pm
Tellulah's Old Darlings