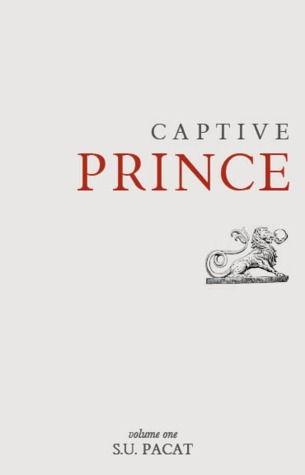 You know those series that ruin you for all others? Captive Prince trilogy, I'm looking at you. I am totally and absolutely blown away by Pacat's brilliant storytelling.
Synopsis:
Damen is a warrior hero to his people, and the rightful heir to the throne of Akielos. But when his half brother seizes power, Damen is captured, stripped of his identity, and sent to serve the prince of an enemy nation as a pleasure slave.
Beautiful, manipulative, and deadly, his new master, Prince Laurent, epitomizes the worst of the court at Vere. But in the lethal political web of the Veretian court, nothing is as it seems, and when Damen finds himself caught up in a play for the throne, he must work together with Laurent to survive and save his country.
For Damen, there is just one rule: never, ever reveal his true identity. Because the one man Damen needs is the one man who has more reason to hate him than anyone else…
Why I Love It:
I'm not sure love is strong enough of a word to capture my feelings for the Captive Prince series. First off, let me say that despite my adoration of both fantasy and m/m romance, that between the cover and description, I still would never have picked this book up, thinking it was probably going to be earnest and over-wrought, had it not been highly recommended to me by someone I trust.
Pick. Up. This. Series.
This is a story of political power plays and king making and the level of strategy and counter strategy employed between Laurent and the Regent is dizzying. The intelligence and creativity with which Pacat wields this game playing, made Game of Thrones look like the junior leagues.
Then there is the writing itself, which is gorgeous and expressive, and always maintains the perfect tone and balance between detail, exposition, and inner thought. Our POV character is Damen, and he is a great character but I'm going to rave about Laurent because he may be the twistiest, most devious character I've come across in a long time and it was a delight to read him.
And then there is the sexual tension. Dear god, what a slow, delicious build. This is tension in the hands of a master and I bow low before her. A long, slow drag of tension that leaves the reader as build up, pent up, and longing for release as the characters. Seriously, I think I'm giving up writing now because after this level of brilliance, there is simply no point.
There is no dealing with middle book syndrome here. No feeling like book two is the filler while we wait to get to the good stuff. The Captive Prince trilogy all good stuff. Very very good, and trust me, darlings, you don't want to miss out.
Subscribe for bonus content and insider scoops!
Twittering away...
Husband just remembered that once, when asked what she wanted to be when she grew up, my kid replied, "I wanna be on stilts!" #soproud
- Friday Feb 23 - 9:25pm
https://t.co/1UHQhm57rN Cautiously optimistic about the premise
- Wednesday Feb 21 - 9:20pm
SPOILER ALERT! A fabulous video that you absolutely SHOULD NOT WATCH if you have not yet seen The Good Place s1 fin… https://t.co/Jqf3UnxHg3
- Tuesday Feb 20 - 4:15am
Lose yourself in a funny, sexy urban fantasy romance! The Unlikeable Demon Hunter: Crave releases Feb 20 and to cel… https://t.co/WPcUSnVRRu
- Sunday Feb 18 - 4:56pm
Bet you didn't know you could pair tap dancing and Star Wars! https://t.co/GS2qzvH7nJ
- Friday Feb 16 - 8:45pm
Tellulah's Old Darlings