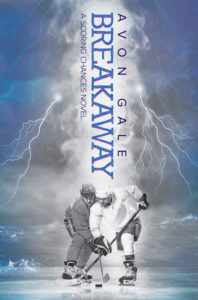 Last Curl up until September, darlings. And I've got a series for you that is book crack. I devoured Breakaway in a couple of hours and immediately had to get book 2. So what's so great about it?
Synopsis:
Drafted to play for the Jacksonville Sea Storm, an NHL affiliate, twenty-year-old Lane Courtnall's future looks bright, apart from the awkwardness he feels as a gay man playing on a minor league hockey team. He's put his foot in his mouth a few times and alienated his teammates. Then, during a rivalry game, Lane throws off his gloves against Jared Shore, enforcer for the Savannah Renegades. It's a strange way to begin a relationship.
Jared's been playing minor league hockey for most of his career. He's bisexual and doesn't care if anyone knows. But he's determined to avoid another love affair after the last one left him devastated. Out of nowhere a one-nighter with rookie Lane Courtnall gives him second thoughts. Lane reminds Jared why he loves the game and why love might be worth the risk. In turn, Jared hopes to show Lane how to be comfortable with himself on and off the ice. But they're at different points in their careers, and both men will have to decide what they value most.
Why I Love It:
I would rather stick hot needles in my eyes than watch any kind of team sports, so the fact that I love love love hockey romances, especially m/m ones, is a mystery to me. I blame it on some kind of hard-wired Canadianness.
My favourite m/m hockey romances are written by Sarina Bowen. I did an interview with her back in 2015, so when she recommended Avon Gale's romances, I knew I'd be checking them out.
Lane is the best. First off, he's Canadian, which yay! But he's so socially awkward. This kid just does not have a filter button, which I love, and yet he makes everyone want to both hug him and punch him at the same time. I don't know how Gale pulled this character off, but she did it brilliantly.
Jared is about 11 years older than Lane. The veteran player. I usually cringe at this age gap, but again, it worked and I totally rooted for them. Both of them are at very different places in terms of their sexual identities and experience and Gale really brought a genuineness to her exploration of that
There's not a lot of worry about what will happen with Lane and Jared. They get together quite soon on and it's more going along for the ride in their relationship than nail biting "will they overcome all these horrible things and finally get an HEA." And as sweet as it is, these books are also sizzling hot.
Breakaway is a totally satisfying standalone but I bet that like me, you'll be buying book 2 as soon as you're finished. I'm done that one as well, and yeah. Just as good. Maybe even better.
Have a fabulous summer vacation!
xo
Tellulah
Subscribe for bonus content and insider scoops!
Tellulah's Old Darlings