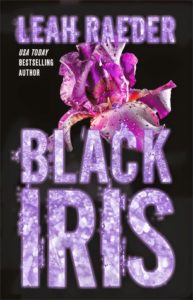 The number of times I picked up and put Black Iris down was getting ridiculous. So what made me actually decide to read it this time?
Synopsis:
It only took one moment of weakness for Laney Keating's world to fall apart. One stupid gesture for a hopeless crush. Then the rumors began. Slut, they called her. Queer. Psycho. Mentally ill, messed up, so messed up even her own mother decided she wasn't worth sticking around for.
If Laney could erase that whole year, she would. College is her chance to start with a clean slate.
She's not looking for new friends, but they find her: charming, handsome Armin, the only guy patient enough to work through her thorny defenses—and fiery, filterless Blythe, the bad girl and partner in crime who has thorns of her own.
But Laney knows nothing good ever lasts. When a ghost from her past resurfaces—the bully who broke her down completely—she decides it's time to live up to her own legend. And Armin and Blythe are going to help.
Which was the plan all along.
Because the rumors are true. Every single one. And Laney is going to show them just how true.
She's going to show them all.
Why I Love It:
Confession time. The only reason I read this book was because I was at the library, it was sitting there on the shelf at eye level and I was facing a bookless bus ride home. To say my enthusiasm for diving in to this story that I'd so actively opted not to read so many times was low, would be generous.
Hi. I'm Tellulah Darling and I'm an idiot. I don't know what my problem was because I'd read Raeder's Unteachable about a student/teacher relationship and if (I'm going to refer to the author as Elliot Wake now because he has transitioned), he could get me fully onboard with that subject matter and loving that book, my reticence here was a mystery. Wait – no it's not because I just re-read the synopsis and I thought it was every NA that I was tired of reading.
Oh, how wrong I was.
Black Iris is stupendous! I read it in about 3 hours, ignoring my entire family to do so. Dark, haunting, twisted, sublime, lush, this book has taken root in my brain and I suspect it will be a long time before I stop thinking about it. Where I expected it to zig, it zagged, when I was sure I understood a character, a bombshell was dropped on me. I couldn't set my smug reader expectations on this book and it was fabulous.
Take a primal revenge story, birth it in the devastation of mental illness, wrap it in several layers of sexual identity and heartbreaking homophobia and then shine it to a high gloss with the brittle beauty of Laney and Blythe. This book nails every single dizzying element. So don't be like me, go read it immediately, and bow before Wake's writing prowess.
xo
Tellulah
Subscribe for bonus content and insider scoops!
Tellulah's Old Darlings