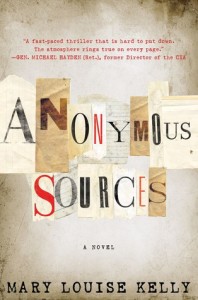 I love a good thriller and Anonymous Sources brilliantly delivers, brought stylishly to life by the author's own experiences as a correspondent.
Synopsis:
A fast-paced international thriller in the vein of Janet Evanovich by former NPR anchor and correspondent Mary Louise Kelly, about a Pakistani terrorist's nuclear threat to blow up the White House.
When Boston reporter Alexandra James is assigned to cover the death of Thom Carlyle, the son of a powerful Washington insider, she soon discovers the story is not as simple as it seems. The young man fell from the top of a Harvard bell tower, but did he jump; or was he pushed?
Intent on escaping the demons of her past, Alex knows how to outwork, outdrink, and outshop anyone else around. Now she is focused on what could be the story of a lifetime; chasing leads from Harvard Yard to the courtyards of Cambridge, England, from a clandestine rendezvous in London to the inside of a nuclear terrorist network. But when she goes to Washington, DC, for a key interview that promises to tie everything together, Alex the hunter becomes Alex the hunted. An assassin is dispatched; her laptop disappears; her phone is tapped; and she begins to grasp that Thom Carlyle may have been killed to hide a terrifying conspiracy within the White House itself.
Former NPR Intelligence correspondent Mary Louise Kelly has turned her own real-life reporting adventures into fiction with this stylish spy thriller.
Why I Love It:
Any fans of The Wire out there? That show could never have existed as a pure work of someone's imagination. It needed the real-life experiences of creator David Simon to flesh it out in a way that was real and nuanced and played so deftly and brilliantly in the grey areas, instead of conforming to a typical Hollywood drug lens of black and white.
For me, the experiences that author Kelly brings to this book, informs it in the same way. It's a simple premise – a reporter has a gut feeling that what should be a routine investigation of a suicide is really murder. And the games begin.
This was a one sitting read for me. It took all great plot twists and turns that I craved and anchored them to a cast of characters who were compelling, smart, ambitious, and sometimes ruthless. Their relationships were complex and messy and heartfelt. I especially loved that our protagonist Alex, was female, because I feel like so many of these novels have a male pursuing the truth.
If you're looking for a book that makes you think about truth, about human nature, and how every person truly is the hero of their own story, then pick this up.
Subscribe for bonus content and insider scoops!
Twittering away...
https://t.co/1UHQhm57rN Cautiously optimistic about the premise
- Wednesday Feb 21 - 9:20pm
SPOILER ALERT! A fabulous video that you absolutely SHOULD NOT WATCH if you have not yet seen The Good Place s1 fin… https://t.co/Jqf3UnxHg3
- Tuesday Feb 20 - 4:15am
Lose yourself in a funny, sexy urban fantasy romance! The Unlikeable Demon Hunter: Crave releases Feb 20 and to cel… https://t.co/WPcUSnVRRu
- Sunday Feb 18 - 4:56pm
Bet you didn't know you could pair tap dancing and Star Wars! https://t.co/GS2qzvH7nJ
- Friday Feb 16 - 8:45pm
Better late than never! Discovered the Haim Time podcast on Beats One. So good!
- Friday Feb 16 - 6:45pm
Tellulah's Old Darlings