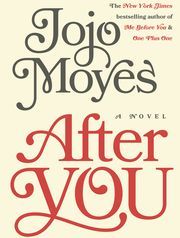 Just because you can write another book with a beloved character, should you? I loved Lou in Me Before You, so going in to After You, my answer would have been "weeeellllllll…." *pulls doubtful look*. That first book had so much emotional depth and heart and tackled profound and complex issues. My fear was that this was going to become a "where is she now" story, because what could possibly follow that up?
Synopsis:
How do you move on after losing the person you loved? How do you build a life worth living?
Louisa Clark is no longer just an ordinary girl living an ordinary life. After the transformative six months spent with Will Traynor, she is struggling without him. When an extraordinary accident forces Lou to return home to her family, she can't help but feel she's right back where she started.
Her body heals, but Lou herself knows that she needs to be kick-started back to life. Which is how she ends up in a church basement with the members of the Moving On support group, who share insights, laughter, frustrations, and terrible cookies. They will also lead her to the strong, capable Sam Fielding—the paramedic, whose business is life and death, and the one man who might be able to understand her. Then a figure from Will's past appears and hijacks all her plans, propelling her into a very different future. . . .
For Lou Clark, life after Will Traynor means learning to fall in love again, with all the risks that brings. But here Jojo Moyes gives us two families, as real as our own, whose joys and sorrows will touch you deeply, and where both changes and surprises await.
After You is quintessential Jojo Moyes—a novel that will make you laugh, cry, and rejoice at being back in the world she creates. Here she does what few novelists can do—revisits beloved characters and takes them to places neither they nor we ever expected.
Why I Love It:
This wasn't a fluffy "look at Lou live life to the fullest" romp. It was a heartbreaking look at loss and grief and guilt in the face of not being sure exactly how to live one's life. Do not go in to this book thinking you're going to find some other Will/Lou dynamic. Yes, there are various new relationships, some of a surprising type, but for me, this was really about Lou, unable to live up to a promise she'd made and now living a most subsistence-level life.
You don't need to have read book one in terms of plot. What happened is fairly well recapped here. However, you should read them in order because only with a complete understanding of Lou's emotional journey with Will, does the heartache of her current situation really hit home. The ending was lovely – not pat, and with just enough hope. That said, I'm not sure I'd want a third installation of this.
My one criticism, and this has nothing to do with Moyes, is the damn covers of these books. Like they're supposed to stimulate anyone with a womb who sees them. I think they reduce these beautifully wrought, complex tales to the lowest of "women's lit" marketing. These are great stories, period.
Subscribe for bonus content and insider scoops!
Twittering away...
https://t.co/1UHQhm57rN Cautiously optimistic about the premise
- Wednesday Feb 21 - 9:20pm
SPOILER ALERT! A fabulous video that you absolutely SHOULD NOT WATCH if you have not yet seen The Good Place s1 fin… https://t.co/Jqf3UnxHg3
- Tuesday Feb 20 - 4:15am
Lose yourself in a funny, sexy urban fantasy romance! The Unlikeable Demon Hunter: Crave releases Feb 20 and to cel… https://t.co/WPcUSnVRRu
- Sunday Feb 18 - 4:56pm
Bet you didn't know you could pair tap dancing and Star Wars! https://t.co/GS2qzvH7nJ
- Friday Feb 16 - 8:45pm
Better late than never! Discovered the Haim Time podcast on Beats One. So good!
- Friday Feb 16 - 6:45pm
Tellulah's Old Darlings