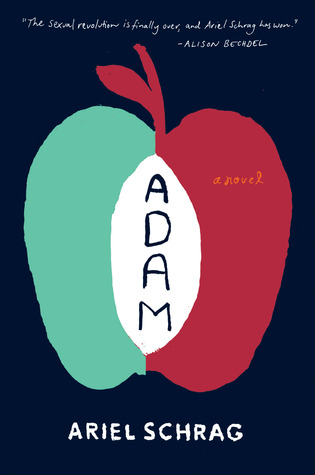 I don't know what I'd do without my library and all the lovely free holds it gives me every year. Whenever I discover a book I want to read, but am unsure about owning, I simply place a hold. Then I tend to forget about it until I get my notification that it's arrived. And sometimes, by that point, I don't even remember what the book is about or why I wanted to read it. Which was the case with Adam. But what a delight.
Synopsis:
When Adam Freedman — a skinny, awkward, inexperienced teenager from Piedmont, California — goes to stay with his older sister Casey in New York City, he is hopeful that his life is about to change. And it sure does.
It is the Summer of 2006. Gay marriage and transgender rights are in the air, and Casey has thrust herself into a wild lesbian subculture. Soon Adam is tagging along to underground clubs, where there are hot older women everywhere he turns. It takes some time for him to realize that many in this new crowd assume he is trans — a boy who was born a girl. Why else would this baby-faced guy always be around?
Then Adam meets Gillian, the girl of his dreams — but she couldn't possibly be interested in him. Unless passing as a trans guy might actually work in his favor…
Ariel Schrag's scathingly funny and poignant debut novel puts a fresh spin on questions of love, attraction, self-definition, and what it takes to be at home in your own skin.
Why I Love It:
Take one bio boy pretending to be an older trans to woo the lesbian of his dreams and things are bound to get awkward. All the stars for this fresh, funny, sweet, lovely romantic comedy filled with fabulous characters and great voices. Schrag reminds us in the best possible way that regardless of identity or sexuality, when it comes to love, drama is drama and none of us humans can escape it.
And as much as the entire book was tremendously engaging, I think what pushed my love for it into overdrive was the ending. Because this is that time honoured love structure of boy meets girl and thus boy must lose girl and man could it have gone so wrong. Not just for our protagonist Adam, but how do you have this magnitude of a whopper – "Sorry, not transgender" – exposed without falling into "whocka whocka" sitcom territory? I needn't have worried. Schrag applies the same deft touch to giving us the sweetest, most hopeful ending as she does the rest of the story.
Yay! Happy reader girl here.
Subscribe for bonus content and insider scoops!
Twittering away...
https://t.co/1UHQhm57rN Cautiously optimistic about the premise
- Wednesday Feb 21 - 9:20pm
SPOILER ALERT! A fabulous video that you absolutely SHOULD NOT WATCH if you have not yet seen The Good Place s1 fin… https://t.co/Jqf3UnxHg3
- Tuesday Feb 20 - 4:15am
Lose yourself in a funny, sexy urban fantasy romance! The Unlikeable Demon Hunter: Crave releases Feb 20 and to cel… https://t.co/WPcUSnVRRu
- Sunday Feb 18 - 4:56pm
Bet you didn't know you could pair tap dancing and Star Wars! https://t.co/GS2qzvH7nJ
- Friday Feb 16 - 8:45pm
Better late than never! Discovered the Haim Time podcast on Beats One. So good!
- Friday Feb 16 - 6:45pm
Tellulah's Old Darlings