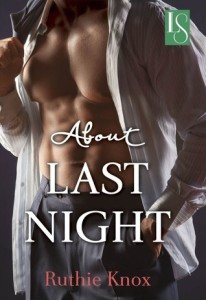 It's all too easy to dismiss hard ab book covers as the gateway to pure fluff. Sometimes that's true, and sometimes, as with About Last Night, you'll get compelling characters with genuine, relatable struggles, tons of humour, and the sexy time ab promise.
Synopsis:
Cath Talarico knows a mistake when she makes it, and God knows she's made her share. So many, in fact, that this Chicago girl knows London is her last, best shot at starting over. But bad habits are hard to break, and soon Cath finds herself back where she has vowed never to go . . . in the bed of a man who is all kinds of wrong: too rich, too classy, too uptight for a free-spirited troublemaker like her.
Nev Chamberlain feels trapped and miserable in his family's banking empire. But beneath his pinstripes is an artist and bohemian struggling to break free and lose control. Mary Catherine—even her name turns him on—with her tattoos, her secrets, and her gamine, sex-starved body, unleashes all kinds of fantasies.
When blue blood mixes with bad blood, can a couple that is definitely wrong for each other ever be perfectly right? And with a little luck and a lot of love, can they make last night last a lifetime?
Why I Love It:
Recently, my editor was chatting with me about the importance in romance of moving beyond the physical connection to the emotional. What do they truly bring to each other? That's part of what makes this story so engaging. It's not just uptight guy/manic pixie girl. Nev and Cath are two people trapped by their own decisions and pasts who, if they can get over all their baggage may be able to reach their dreams.
Which brings me to our main character. Cath is so not the skitzy pretty trope. She's a foul-mouthed, complicated, big-hearted, smart and funny woman. She's both confident and insecure, free-spirited and traditional – in short a real woman that I absolutely related to. And from page one, was rooting for her to get her happily-ever-after – whatever it looked it.
Anyone who has spent five minutes discussing book boyfriends with me (an important topic and all those who mock may go elsewhere now), knows that it is always and forever Jericho Barrons for me. And yet, Nev may be the one guy giving Barrons a run for his money. That's saying a lot. He is such a repressed product of family expectation, struggling to lead a life of happiness on his own terms. And it's that struggle that makes him so compelling.
I adore this book. It hit my romance trifecta of hot, swoony, and funny. Both Cath and Nev were fabulous and fabulous together. Happy bliss and a read that I've come back to again and again.
And on an exciting note, Ruthie Knox will be joining me for one of my Getting Into The Story interviews in a couple of months so definitely stay tuned for that!
Subscribe for bonus content and insider scoops!
Twittering away...
Husband just remembered that once, when asked what she wanted to be when she grew up, my kid replied, "I wanna be on stilts!" #soproud
- Friday Feb 23 - 9:25pm
https://t.co/1UHQhm57rN Cautiously optimistic about the premise
- Wednesday Feb 21 - 9:20pm
SPOILER ALERT! A fabulous video that you absolutely SHOULD NOT WATCH if you have not yet seen The Good Place s1 fin… https://t.co/Jqf3UnxHg3
- Tuesday Feb 20 - 4:15am
Lose yourself in a funny, sexy urban fantasy romance! The Unlikeable Demon Hunter: Crave releases Feb 20 and to cel… https://t.co/WPcUSnVRRu
- Sunday Feb 18 - 4:56pm
Bet you didn't know you could pair tap dancing and Star Wars! https://t.co/GS2qzvH7nJ
- Friday Feb 16 - 8:45pm
Tellulah's Old Darlings