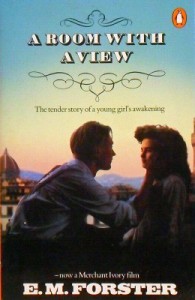 I'm reaching way back today to a beloved book that was one of the original "SO MANY FEELS" for me as a teenager.
Synopsis:
One of E. M. Forster's most celebrated novels, A Room With a View is the story of a young English middle-class girl, Lucy Honeychurch. While vacationing in Italy, Lucy meets and is wooed by two gentlemen, George Emerson and Cecil Vyse. After turning down Cecil Vyse's marriage proposals twice Lucy finally accepts. Upon hearing of the engagement George protests and confesses his true love for Lucy. Lucy is torn between the choice of marrying Cecil, who is a more socially acceptable mate, and George who she knows will bring her true happiness. A Room With a View is a tale of classic human struggles such as the choice between social acceptance or true love.
Why I Love It:
E.M. Forster is such an intelligent, insightful, and witty author. But we all know that, right? I grew up reading a steady diet of 18th and 19th century classic lit. Those tales of manners vs true love, especially if set against a changing backdrop of women's rights occupy a special place in my heart. Combine those stories with an Italian setting and of course I was going to love this book.
A Room with a View delivers all this – Lucy's youthful desire for passion which I could so relate to (to the point that while backpacking in Europe in my late teens, I purposefully had to go stand by the Arno at sunset and feeel), sexual repression and awakening, and socio-economic issues – all delivered with drawing room wit.
While Cecil perhaps, can come off as cartoonish in his rigid foppery, he is as much a creature of his times as any of them. All the characters caught on the various sides of convention vs passion are true and genuine reflections of their surroundings, whether upholding the most traditional of social mores or espousing the most unconventional of outlooks. I dare you not to fall for broody George, puppy-like Freddy, wise Mr. Beebe, poor cousin Charlotte, cheerful bumbling Mr. Emerson, and Lucy herself caught in the centre of all this push and pull, trying to determine if she should be true to her upbringing or her heart.
A marvellous read. And while no, I still don't think the movie version is as good as the book, it is one of the few adaptations that I am rather fond of.
Subscribe for bonus content and insider scoops!
Tellulah's Old Darlings