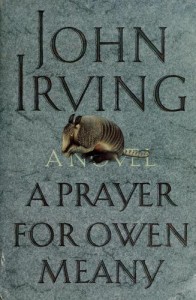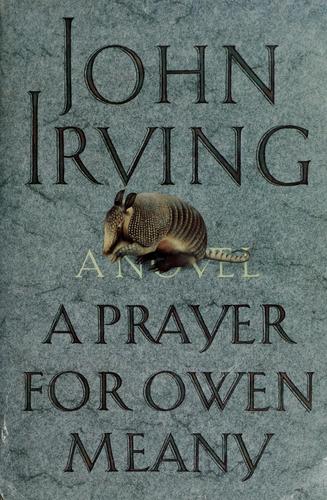 I'm in a really bad reading slump. Even with the new Salman Rushdie, whose books I love, I only lasted a couple of chapters before giving up. So this is my call for recommendations of books to blow my mind, please and thank you. Anyhow, when new books aren't working for me, I go back to my old favourites.
Synopsis:
"I am doomed to remember a boy with a wrecked voice—not because of his voice, or because he was the smallest person I ever knew, or even because he was the instrument of my mother's death, but because he was the reason I believe in God; I am a Christian because of Owen Meany."
In the summer of 1953, two eleven-year-old boys—best friends—are playing in a Little League baseball game in Gravesend, New Hampshire. One of the boys hits a foul ball that kills the other boy's mother. The boy who hits the ball doesn't believe in accidents; Owen Meany believes he is God's instrument. What happens to Owen, after that 1953 foul ball, is extraordinary and terrifying.
Why I Love It:
The synopsis makes it sound like a horror story or chilling thriller, when in fact, A Prayer for Owen Meany is one of the funniest books I've ever read. Lots of writers use humour to make a character likeable. I sure do. (Or try.) But with Owen Meany, Irving has given us a thoroughly likeable character who uses no quips or sarcasm – who in fact, hates jokes and is perfectly literal and yet, I love him.
In Owen, we have a guy who is totally solemn and yet is a figure of mirth to others around him. He is a small figure but through sheer force of will, manipulates events around him to suit his purposes. His size and his nature, at odds with each other, work together to realize this absolutely unique and totally memorable individual. At no point does Irving veer into stereotype. Each character quality is uniquely and specifically wrought.
This tiny figure is a giant of man, shepparding us through the best of humanity's qualities – loyalty, determination, dignity, and faith. Not just in a religious sense but an absolute certainty of belief in those he loves.
Owen Meany is the perfect straightman and foil in events so comedic they make me cry with laughter and at the heart of other events so dramatic they just make me cry. Love or hate this book, this small male with his cartoon voice is unforgettable.
And isn't that what we want from our characters? To live forever in readers' memories without prompting? To be able to hold them close and pull out their memory and relive the emotion of their story as  if it were true? That's what Owen Meany (And John Irving) did for me. And I feel better for having known him.
Subscribe for bonus content and insider scoops!
Twittering away...
https://t.co/1UHQhm57rN Cautiously optimistic about the premise
- Wednesday Feb 21 - 9:20pm
SPOILER ALERT! A fabulous video that you absolutely SHOULD NOT WATCH if you have not yet seen The Good Place s1 fin… https://t.co/Jqf3UnxHg3
- Tuesday Feb 20 - 4:15am
Lose yourself in a funny, sexy urban fantasy romance! The Unlikeable Demon Hunter: Crave releases Feb 20 and to cel… https://t.co/WPcUSnVRRu
- Sunday Feb 18 - 4:56pm
Bet you didn't know you could pair tap dancing and Star Wars! https://t.co/GS2qzvH7nJ
- Friday Feb 16 - 8:45pm
Better late than never! Discovered the Haim Time podcast on Beats One. So good!
- Friday Feb 16 - 6:45pm
Tellulah's Old Darlings