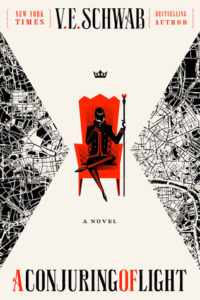 Some of the absolute best fantasy I've read comes out of the YA world, and A Conjuring of Light, the final book in the Shades of Magic trilogy, is no exception.
Synopsis:
Witness the fate of beloved heroes – and enemies.
THE BALANCE OF POWER HAS FINALLY TIPPED…
The precarious equilibrium among four Londons has reached its breaking point. Once brimming with the red vivacity of magic, darkness casts a shadow over the Maresh Empire, leaving a space for another London to rise.
WHO WILL CRUMBLE?
Kell – once assumed to be the last surviving Antari – begins to waver under the pressure of competing loyalties. And in the wake of tragedy, can Arnes survive?
WHO WILL RISE?
Lila Bard, once a commonplace – but never common – thief, has survived and flourished through a series of magical trials. But now she must learn to control the magic, before it bleeds her dry. Meanwhile, the disgraced Captain Alucard Emery of the Night Spire collects his crew, attempting a race against time to acquire the impossible.
WHO WILL TAKE CONTROL?
And an ancient enemy returns to claim a crown while a fallen hero tries to save a world in decay.
Why I Love It:
At the moment, I'm a broken puddle of feels, writing this through drying tears and I don't want it to be over. THIS SERIES WAS SOOOO GOOD! Let's break it down, shall we?
Incredible mythology featuring alternate Londons? Check!
Cross-dressing thief, pirate, and magician who is the female I want to be in my fictional (yes, okay, and real) life? Check!
Two princely brothers bound so fiercely by their ties, yet so fascinating and amazing, with such different journeys? Check!
Gorgeous, sumptuous writing that is, with the slightest turn of phrase, so evocative or dryly funny? Check!
Adventure after adventure that leaves your heart pounding and your fingers flipping the pages as fast as you can read? Check!
And then there are the love stories… *swoons*
If you love the Raven Cycle, and really, what's not to love, you need to treat yourself and dive into this trilogy. I promise you will love this just as much. And if you need further proof, check out my reviews of A Darker Shade of Magic (Book 1) and A Gathering of Shadows (Book 2).
Then get back to me.
Subscribe for bonus content and insider scoops!
Tellulah's Old Darlings