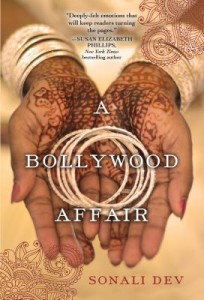 The only good thing about reading slumps is finding the perfect book to snap me out of it and my, did A Bollywood Affair deliver.
Synopsis:
Mili Rathod hasn't seen her husband in twenty years—not since she was promised to him at the age of four. Yet marriage has allowed Mili a freedom rarely given to girls in her village. Her grandmother has even allowed her to leave India and study in America for eight months, all to make her the perfect modern wife. Which is exactly what Mili longs to be—if her husband would just come and claim her.
Bollywood's favorite director, Samir Rathod, has come to Michigan to secure a divorce for his older brother. Persuading a naïve village girl to sign the papers should be easy for someone with Samir's tabloid-famous charm. But Mili is neither a fool nor a gold-digger. Open-hearted yet complex, she's trying to reconcile her independence with cherished traditions. And before he can stop himself, Samir is immersed in Mili's life—cooking her dal and rotis, escorting her to her roommate's elaborate Indian wedding, and wondering where his loyalties and happiness lie.
Heartfelt, witty, and thoroughly engaging, Sonali Dev's debut is both a vivid exploration of modern India and a deeply honest story of love, in all its diversity.
Why I Love It:
There are so many Indian authors and books that I've loved over the years, not to mention films from Satyajit Ray to Dev Benegal to Deepa Mehta and of course Bollywood musicals. So when I saw this sumptuous cover and that title, I crossed my fingers and hoped this would be the book to break my reading slump.
Because it had gotten bad. I couldn't even make eye contact with my Kindle because I felt like all the half-read books on it were glaring at me for not finishing them. But nothing held my attention. Then in the space of a few hours, I discovered and read this book. Colours seemed brighter, my heart felt lighter – this beautiful, sumptuous romance made me so very happy.
Start with a great premise, Mili, married at 4 in a small Indian village, hasn't seen her husband in 20 years. But that hasn't stopped her from being 100% committed to this marriage and the hope that eventually he'll come for her. She pawns her dowry jewelry so that she can further her education in the US. And that's where her brother-in-law Samir finds her, hell bent on getting her to sign annulment papers.
There was something magical about this romance, about each tiny step in Mili and Samir's developing friendship, made all the more fragile and heart-stopping by the secrets between them. I flat out loved it. There was no sentimentality, just genuine, raw, beautifully realized, and flawed humans daring to hope for more than their pasts had dealt them.
Subscribe for bonus content and insider scoops!
Twittering away...
Finally worked my way through my TBR pile to Keystone by Dannika Dark and I'm so glad I did! https://t.co/7mNkl5f3dP https://t.co/DQRCBD1xCf
- Sunday Feb 25 - 4:54pm
Husband just remembered that once, when asked what she wanted to be when she grew up, my kid replied, "I wanna be on stilts!" #soproud
- Friday Feb 23 - 9:25pm
https://t.co/1UHQhm57rN Cautiously optimistic about the premise
- Wednesday Feb 21 - 9:20pm
SPOILER ALERT! A fabulous video that you absolutely SHOULD NOT WATCH if you have not yet seen The Good Place s1 fin… https://t.co/Jqf3UnxHg3
- Tuesday Feb 20 - 4:15am
Lose yourself in a funny, sexy urban fantasy romance! The Unlikeable Demon Hunter: Crave releases Feb 20 and to cel… https://t.co/WPcUSnVRRu
- Sunday Feb 18 - 4:56pm
Tellulah's Old Darlings