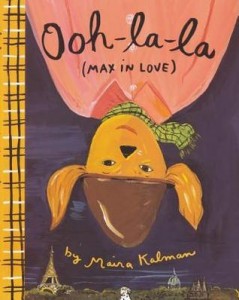 It's Canadian Thanksgiving this weekend. I'm taking a break from my general Statler and Waldorf heckling of  the world to focus on the things I'm grateful for. Today's book combines two of them.
Synopsis:
Max, a millionaire dog poet, has come to Paris from New York to see the sights and find his heart's desire. As he basks in the glitter and glow of Paris, Max finds himself in the midst of cosmopolitan expatriates and eccentric Parisiennes. Ooh-la-la (Max in Love) quivers with surreal and funny language, and idiosyncratic, luminous art.

Why I Love This Book:
Like many of us, there are aspects of my life that I scratch my head at and wonder how they went so off plan. And yet, there are aspects of my life that exceed any kind of idea I might have had for them. Top of the latter list is my daughter. Stubborn, smart, sassy – I have no clue how I got so lucky with this fabulous kid but she is my joy and my delight. We hang out a lot, and since she's a reader girl, we're often curled up together lost in our books. When she was younger, though, I read to her. A lot. Which brings me to the second thing I'm grateful for: kids books I could read a million times without wanting to take a hammer blow and end the numbing pain of reading those words yet again. (Yes? Anyone?)
Ooh-la-la (Max in Love) was one of those books. I'm not sure I can ever tire of it. This story of a poet dog who goes to Paris and falls in love is told with sumptuous surreal illustrations that play off all kinds of iconic artistic styles and wordplay that is fun for kids and a sly delight for adults. There are so many layers here. So in celebration of Canadian Thanksgiving, why not curl up with a kid (young or young at heart) that you love and treat yourself to this read. I promise that it won't disappoint.
Happy Thanksgiving, darlings. And know that I am exceedingly grateful for each and every one of you!
xo
Tellulah
Subscribe for bonus content and insider scoops!
Twittering away...
https://t.co/1UHQhm57rN Cautiously optimistic about the premise
- Wednesday Feb 21 - 9:20pm
SPOILER ALERT! A fabulous video that you absolutely SHOULD NOT WATCH if you have not yet seen The Good Place s1 fin… https://t.co/Jqf3UnxHg3
- Tuesday Feb 20 - 4:15am
Lose yourself in a funny, sexy urban fantasy romance! The Unlikeable Demon Hunter: Crave releases Feb 20 and to cel… https://t.co/WPcUSnVRRu
- Sunday Feb 18 - 4:56pm
Bet you didn't know you could pair tap dancing and Star Wars! https://t.co/GS2qzvH7nJ
- Friday Feb 16 - 8:45pm
Better late than never! Discovered the Haim Time podcast on Beats One. So good!
- Friday Feb 16 - 6:45pm
Tellulah's Old Darlings