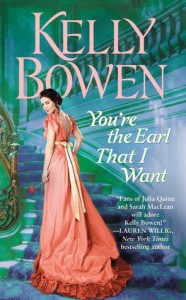 You're the Earl That I Want puts me 2 for 2 in super fun historical romances that feature my beloved "in love with best friend's younger sister" trope. Score!
Synopsis:
THE EARL DOTH PROTEST . . .
For businessman Heath Hextall, inheriting an earldom has been a damnable nuisance. The answer: find a well-bred, biddable woman to keep his life in order and observe the required social niceties. But it's always been clear that Lady Josephine Somerhall is not that woman. Once a shy slip of a girl, Joss is now brilliant, beautiful chaos in a ball gown.
. . . BUT THE LADY KNOWS BEST
In her heart, Joss has always loved Heath, the one person she's always been able to count on. That doesn't mean she wants to marry him though. Without a husband, Joss can do as she pleases—and now, it pleases her to solve the mystery of an encoded file given to Heath by a dying man. It's put Heath in peril once, and Joss won't let that happen again. She'll do what she must to ensure the earl's safety. And to remind him that what she lacks in convention, she makes up for in passion.
Why I Love It:
I didn't realize that this book was the third in the Lords of Worth series and that I'd read and enjoyed the previous two novels. Nor did I know that it featured the "girl grown up and still in love with brother's best friend" trope or that the woman in question was a character I'd always been intrigued by in the series. So pretty much, the book would have had to screw up quite badly for me not to love it.
Fabulous! I think I like Joss as our female MC even better than I did Harry last week. Joss is brilliant, has travelled widely, and is determined not to be pegged down into a traditional woman's role. Impressive for the early 1800s. But Heath has always been the one person who truly saw her and vice versa. Sigh, isn't that great? Now there's just a ton of baggage, including an over-developed sense of personal responsibility on Heath's part, dangerous Frenchmen out to kill them, and the appearance of the perfect wife in Heath's life standing between Heath and Joss's happily-ever-after.
Swoony, sexy, and a hell of a good time.
Subscribe for bonus content and insider scoops!
Twittering away...
https://t.co/1UHQhm57rN Cautiously optimistic about the premise
- Wednesday Feb 21 - 9:20pm
SPOILER ALERT! A fabulous video that you absolutely SHOULD NOT WATCH if you have not yet seen The Good Place s1 fin… https://t.co/Jqf3UnxHg3
- Tuesday Feb 20 - 4:15am
Lose yourself in a funny, sexy urban fantasy romance! The Unlikeable Demon Hunter: Crave releases Feb 20 and to cel… https://t.co/WPcUSnVRRu
- Sunday Feb 18 - 4:56pm
Bet you didn't know you could pair tap dancing and Star Wars! https://t.co/GS2qzvH7nJ
- Friday Feb 16 - 8:45pm
Better late than never! Discovered the Haim Time podcast on Beats One. So good!
- Friday Feb 16 - 6:45pm
Tellulah's Old Darlings