Today's beloved read has pretty much none of the elements that usually draw me to a book. No steam, only mild humour, and no traditionally kick ass female protagonist. Why then, does it enchant me on every level? Let's get to it, darlings.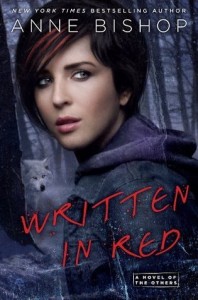 Synopsis:
No one creates realms like New York Times bestselling author Anne Bishop. Now in a thrilling new fantasy series, enter a world inhabited by the Others, unearthly entities—vampires and shape-shifters among them—who rule the Earth and whose prey are humans.
As a cassandra sangue, or blood prophet, Meg Corbyn can see the future when her skin is cut—a gift that feels more like a curse. Meg's Controller keeps her enslaved so he can have full access to her visions. But when she escapes, the only safe place Meg can hide is at the Lakeside Courtyard—a business district operated by the Others.
Shape-shifter Simon Wolfgard is reluctant to hire the stranger who inquires about the Human Liaison job. First, he senses she's keeping a secret, and second, she doesn't smell like human prey. Yet a stronger instinct propels him to give Meg the job. And when he learns the truth about Meg and that she's wanted by the government, he'll have to decide if she's worth the fight between humans and the Others that will surely follow.
Why I Love This Book:
I fell in love with Bishop's writing in her Black Jewels "Trilogy" (spanning like 12 books), which, for any one who loves fantasy is a must read. So of course, I was going to pick up this new series. Like I said, it doesn't have any of those characteristics I generally rave about and yet, everything about Written in Red is fabulous. I just re-read both it and book two (in my agonizing wait for the final book's release in March) and all I can say is they get all the stars in the sky.
First off, the mythology. Yes, there are all the paranormal touchstones but Bishop gives them an original twist. No sparkly vamps. No cuddly shapeshifters. Although they do shapeshift. These Others see humans as prey. The only thing that we meatsacks have in our favour is that we produce some stuff that these creatures like. So woe betide us if we forget our place and get uppity. There is a ruling power and it's not us. I liked that these weren't monsters trying to retain their humanity. Until our protagonist shows up, humans are meat and that's that. I loved how Bishop goes beyond the standard "see wolves behave like puppies" and really gave each Other specific and organic quirks like the Crows love of shiny things that manifests in fun conflict. There are a lot of characters to keep track of but they are all so well developed and fully fleshed out. Bishop plays with all kinds of mythology (like human oracles) and various traits pertaining to supernatural creatures and humans both (like girls who cut themselves). It's what makes each character, even the done to death vampires feel fresh.
Which brings me to Simon. *flutters* The curmudgeony alpha. His fall for "the Meg" (our human) is slow and unlike the typical "must have her, up in her face possessiveness". There is a playfulness and sweetness between them that I don't usually see in this kind of a character. Meg is great as well. This is how you write "helpless." Not useless, not broken, just with an understandable innocence given her secluded abusive upbringing at the hands of people determined to exploit her seer abilities, and yet, a real determination to stand on her own two feet.
I lasted about 12 hours before cracking and buying book two. No second book lameness here. Bishop deepens our understanding of this world by meshing us further in the delicate web of relations happening between humans and Others. Bishop does an amazing job of crafting characters and a world I just want to hang out in. It's not super hot or even overtly romantic. It's simply the entirety of the world and all themes explored within it. I've grown to love the Others, the exploding fluffballs, the cops – everyone is so real to me.
Which is not to say there isn't romance. I'm dying watching the burgeoning, deepening relationship between Meg, who grows feistier and more fabulous with every page turned, and Simon, who grows more confused about his feeling for this human who is "not prey." Ultimately, these books made me think – about otherness; how we define it and who ultimately, does it apply to?
I seriously think the wait for book three may kill me, and God help me if this isn't a trilogy. Nice knowing you all.
Subscribe for bonus content and insider scoops!
Twittering away...
https://t.co/1UHQhm57rN Cautiously optimistic about the premise
- Wednesday Feb 21 - 9:20pm
SPOILER ALERT! A fabulous video that you absolutely SHOULD NOT WATCH if you have not yet seen The Good Place s1 fin… https://t.co/Jqf3UnxHg3
- Tuesday Feb 20 - 4:15am
Lose yourself in a funny, sexy urban fantasy romance! The Unlikeable Demon Hunter: Crave releases Feb 20 and to cel… https://t.co/WPcUSnVRRu
- Sunday Feb 18 - 4:56pm
Bet you didn't know you could pair tap dancing and Star Wars! https://t.co/GS2qzvH7nJ
- Friday Feb 16 - 8:45pm
Better late than never! Discovered the Haim Time podcast on Beats One. So good!
- Friday Feb 16 - 6:45pm
Tellulah's Old Darlings