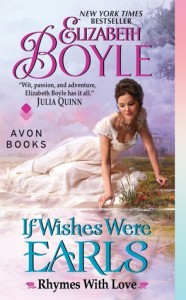 I was in a serious reading slump before I picked up If Wishes Were Earls, like anxiety and deep conviction that I'd never find another book to love were involved, so what a relief that this crossed my path.
Synopsis:
Harriet Hathaway has loved only one man her entire life: the Earl of Roxley. But when he ignores her at a ball, she takes rather desperate steps to catch his eye and her plans find her ruined and without any hope of gaining Roxley's heart. So it is much to her amazement when Roxley proposes marriage to save her from ruin. But Roxley's proposal isn't quite on the up and up and when she finds out she's just another piece in one of his plots and japes, she vows revenge.
Roxley is desperate to pull his family from the brink of ruin, and the only way to gain a lost fortune is to prove to his aunts that he's "reformed" his life and is determined to settle down. But the bride-to-be that he thought would be most amiable is doing everything to turn his life and his heart upside down. Harriet Hathaway had always seemed the most sensible girl he knew, but now this siren of a stranger he's engaged to is leaving him feeling anything but sensible. Harriet is about to steal not only his heart, but quite possibly the keys to the Roxley fortune.
Why I Love It:
I adore the "guy has to get over his idiocy and deal with the fact that he's in love with his best friend's little sister" trope. Combine it with a madcap HR and I'm in heaven.
So yay for Harry and Roxley! I had no problem with the fact that she chases him, especially since their relationship starts with her punching him in the face as a child. This chick knows what and who she wants and also knows that he loves her too and needs to get over himself. Was it a bit unbelievable that the book starts by mentioning he ruined her 8 months ago and yet, although honourable hasn't married her? Sure. Did I care? Not really. I found the entire story a delight and pretty much grinned my way through it. More like this please.
Subscribe for bonus content and insider scoops!
Twittering away...
Husband just remembered that once, when asked what she wanted to be when she grew up, my kid replied, "I wanna be on stilts!" #soproud
- Friday Feb 23 - 9:25pm
https://t.co/1UHQhm57rN Cautiously optimistic about the premise
- Wednesday Feb 21 - 9:20pm
SPOILER ALERT! A fabulous video that you absolutely SHOULD NOT WATCH if you have not yet seen The Good Place s1 fin… https://t.co/Jqf3UnxHg3
- Tuesday Feb 20 - 4:15am
Lose yourself in a funny, sexy urban fantasy romance! The Unlikeable Demon Hunter: Crave releases Feb 20 and to cel… https://t.co/WPcUSnVRRu
- Sunday Feb 18 - 4:56pm
Bet you didn't know you could pair tap dancing and Star Wars! https://t.co/GS2qzvH7nJ
- Friday Feb 16 - 8:45pm
Tellulah's Old Darlings