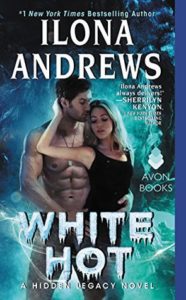 I waited two and half years for White Hot, book 2 in Andrews' Hidden Legacy series to be released, so my anticipation was at an all-time high. Could it live up to my incredible expectations of it?
Synopsis:
The Hidden Legacy series by #1 New York Times bestselling author Ilona Andrews continues as Nevada and Rogan navigate a world where magic is the norm…and their relationship burns hot
Nevada Baylor has a unique and secret skill—she knows when people are lying—and she's used that magic (along with plain, hard work) to keep her colorful and close-knit family's detective agency afloat. But her new case pits her against the shadowy forces that almost destroyed the city of Houston once before, bringing Nevada back into contact with Connor "Mad" Rogan.
Rogan is a billionaire Prime—the highest rank of magic user—and as unreadable as ever, despite Nevada's "talent." But there's no hiding the sparks between them. Now that the stakes are even higher, both professionally and personally, and their foes are unimaginably powerful, Rogan and Nevada will find that nothing burns like ice…
Why I Love It:
White Hot was worth every second of the wait. First off, here's a reminder about my thoughts on Burn for Me, which was book 1. So yeah, I liked it a little bit. The second book in a trilogy can be tricky because it can feel like filler for the final showdown. That does not happen with a master like Ilona Andrews. If there is a gold medal podium for urban fantasy authors, this husband and wife writing team are standing on it.
I tend to go on at length when discussing Andrews about her incredible world building skills, but come on. Her mythologies are fascinating, original (not an easy feat in the crowded UF market) and have me flipping the pages to learn more just as much as her characters do.
And speaking of characters, the MC Nevada, is a joy to read. What I love most about her is not, shockingly, her snark or kick-ass abilities, it's how close she is with her family. From the get go there is this mutual love and respect with all the members of her extended family. And she never has Too Stupid To Live moments. When she does keep things from them, I understand why, and honestly, most of the time, she's upfront about everything.
Then there's Mad Rogan. Can I honestly say I'm crushing on a psychopath with off-the-charts magic power? Why yes, yes I can. See, the thing is, Rogan is a product of his environment and in Andrews' hands we are exposed to not just Mad Rogan the monster and the legend, but Connor, the man. My heart broke in several places during this second book as we develop a whole new understanding of him.
I basically put my evening on hold and devoured this next installation, and it is with great relief that I only have to wait a couple of months for the finale. But again, I know it will be worth it.
Subscribe for bonus content and insider scoops!
Tellulah's Old Darlings