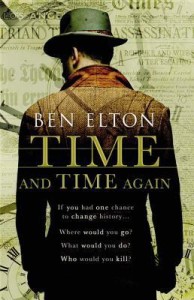 Time and Time Again features time travel and good intentions. And we all know where those lead.
Synopsis:
It's the 1st of June 1914 and Hugh Stanton, ex-soldier and celebrated adventurer is quite literally the loneliest man on earth. No one he has ever known or loved has been born yet. Perhaps now they never will be.
Stanton knows that a great and terrible war is coming. A collective suicidal madness that will destroy European civilization and bring misery to millions in the century to come. He knows this because, for him, that century is already history.
Somehow he must change that history. He must prevent the war. A war that will begin with a single bullet. But can a single bullet truly corrupt an entire century?
And, if so, could another single bullet save it?
Why I Love It:
I do enjoy a good time travel story. With the exception of Outlander which I never could get onboard with. (Yeah, yeah, I know. Simmer down.) Elton's book was a treat. He begins with by asking "If you could go back and change one moment in history, what would it be?" For "Guts" Stanton, widower and ex-soldier, it's 1914 and the explosive moments leading to the Great War. You don't need to know history to follow or enjoy this story. From the scientific premise behind the time travel to the historical events themselves, Elton keeps all details engaging and easy to follow.
Beyond the fun of the story, however, is a heartfelt adventure about one isolated man, who in standing outside of history, may just find his way back to connecting with society. Smug me, I figured I had the twists and turns all figured out but clever author that Elton is, he managed to surprise me on several memorable occasions.
If you're looking for a thrilling adventure, with a compelling hero, and the fun of alternate histories, then pick this up.
Subscribe for bonus content and insider scoops!
Twittering away...
https://t.co/1UHQhm57rN Cautiously optimistic about the premise
- Wednesday Feb 21 - 9:20pm
SPOILER ALERT! A fabulous video that you absolutely SHOULD NOT WATCH if you have not yet seen The Good Place s1 fin… https://t.co/Jqf3UnxHg3
- Tuesday Feb 20 - 4:15am
Lose yourself in a funny, sexy urban fantasy romance! The Unlikeable Demon Hunter: Crave releases Feb 20 and to cel… https://t.co/WPcUSnVRRu
- Sunday Feb 18 - 4:56pm
Bet you didn't know you could pair tap dancing and Star Wars! https://t.co/GS2qzvH7nJ
- Friday Feb 16 - 8:45pm
Better late than never! Discovered the Haim Time podcast on Beats One. So good!
- Friday Feb 16 - 6:45pm
Tellulah's Old Darlings