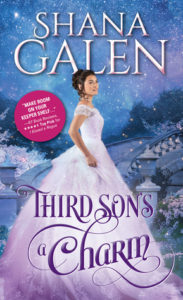 The strong silent type doesn't generally do it for me. I like my alphas to be as handy with banter as bashing heads. So why did Third Son's a Charm capture my attention?
Synopsis:
Ewan Mostyn thinks a job as a duke's daughter's bodyguard will be easy―but Lady Lorraine has a few tricks up her sleeve that spark an undeniable passion…
Fiercely loyal to his friends and comrades, Ewan Mostyn is the toughest in a group of younger sons of nobility who met as soldiers and are now trying desperately to settle back into peaceful Society. Ewan trusts his brawn more than his brains, but when he's offered a job watching the Duke of Ridlington's stubbornly independent daughter, he finds both are challenged.
Lady Lorraine wants none of her father's high-handed ways, and she'll do everything in her power to avoid her distressingly attractive bodyguard―until she lands herself in real trouble. Lorraine begins to see Ewan's protectiveness in a new light, and she can only hope that her stoic guardian will do for her what he's always done―fight for what he wants.
Why I Loved It:
Darlings, you know that historical romance is my happy place, but this book isn't my usual jam. It wasn't quippy and witty (though there is definitely humour.) But the pairing of the loquacious Lorrie and silent Ewan just worked. I loved the bodyguard angle and most especially, enjoyed having an alpha hero who struggled with dyslexia. Understandably, it really fuelled Ewan's sense of himself and his confidence levels. Lorrie was a great counterpart to him and I rooted hard for them both.
The secondary love story in the book didn't do much for me, but if you want a hero that's outside the norm, pick up Third Son's a Charm.
Subscribe for bonus content and insider scoops!
Tellulah's Old Darlings