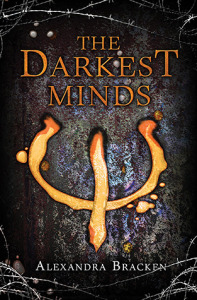 Kicking off the new year with one hell of a read, darlings, with The Darkest Minds trilogy. So let's get right to it.
Synopsis:
When Ruby woke up on her tenth birthday, something about her had changed. Something alarming enough to make her parents lock her in the garage and call the police. Something that gets her sent to Thurmond, a brutal government "rehabilitation camp." She might have survived the mysterious disease that's killed most of America's children, but she and the others have emerged with something far worse: frightening abilities they cannot control.
Now sixteen, Ruby is one of the dangerous ones.
When the truth comes out, Ruby barely escapes Thurmond with her life. Now she's on the run, desperate to find the one safe haven left for kids like her—East River. She joins a group of kids who escaped their own camp. Liam, their brave leader, is falling hard for Ruby. But no matter how much she aches for him, Ruby can't risk getting close. Not after what happened to her parents.
When they arrive at East River, nothing is as it seems, least of all its mysterious leader. But there are other forces at work, people who will stop at nothing to use Ruby in their fight against the government. Ruby will be faced with a terrible choice, one that may mean giving up her only chance at a life worth living.
Why I Love It:
When you love YA as much as I do, it can be very handy to have a reader girl kid with reader girl friends. My daughter's best friend had actually been trying to get me to read this for a while. I finally did – not sure what my hesitation was. But oh man, this was a 1 sitting read!
I'm kind of tired of dystopians to tell you the truth. But Bracken found a way in to the world with her economic collapse and kids manifesting paranormal abilities that had me intrigued from the start. What really clinched it though, were the characters. First and foremost, Ruby was a girl I could get behind. She straddled a believable line between smart and capable, and broken by outside forces. And yet, she never came off as a victim.
Then there is the motley crew of fabulousness who she teams up with – Liam, Zu and Chubs (who I think may be my fav of the bunch). They are each so real, funny and vulnerable.
Plot-wise the book has the requisite twists and turns with a cliffhanger that I would have thought would be a book two "all is lost" kind of beat. The fact that it came at the end of book one meant that Bracken took us deeper, darker and further as the series progressed. While book two was slightly (and really only slightly) less amazing than book one (though it does introduce a most excellent female character), the third instalment knocked it out of the park. It was the ending I wanted, needed and sighed in happiness to receive. The only bummer was what I could possibly read next that could be as good.
Tune in next week and find out …
xo
Tellulah
Subscribe for bonus content and insider scoops!
Twittering away...
https://t.co/1UHQhm57rN Cautiously optimistic about the premise
- Wednesday Feb 21 - 9:20pm
SPOILER ALERT! A fabulous video that you absolutely SHOULD NOT WATCH if you have not yet seen The Good Place s1 fin… https://t.co/Jqf3UnxHg3
- Tuesday Feb 20 - 4:15am
Lose yourself in a funny, sexy urban fantasy romance! The Unlikeable Demon Hunter: Crave releases Feb 20 and to cel… https://t.co/WPcUSnVRRu
- Sunday Feb 18 - 4:56pm
Bet you didn't know you could pair tap dancing and Star Wars! https://t.co/GS2qzvH7nJ
- Friday Feb 16 - 8:45pm
Better late than never! Discovered the Haim Time podcast on Beats One. So good!
- Friday Feb 16 - 6:45pm
Tellulah's Old Darlings