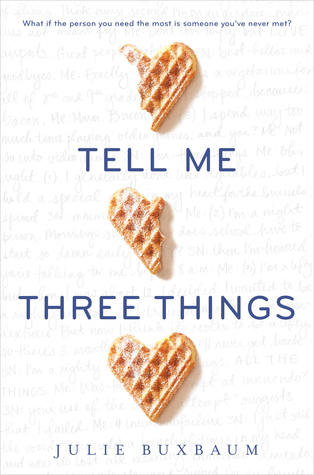 Three fundamental things about Tell Me Three Things: Read it. Read it. Read it.
Synopsis:
Everything about Jessie is wrong. At least, that's what it feels like during her first week of junior year at her new ultra-intimidating prep school in Los Angeles. Just when she's thinking about hightailing it back to Chicago, she gets an email from a person calling themselves Somebody/Nobody (SN for short), offering to help her navigate the wilds of Wood Valley High School. Is it an elaborate hoax? Or can she rely on SN for some much-needed help?
It's been barely two years since her mother's death, and because her father eloped with a woman he met online, Jessie has been forced to move across the country to live with her stepmonster and her pretentious teenage son.
In a leap of faith—or an act of complete desperation—Jessie begins to rely on SN, and SN quickly becomes her lifeline and closest ally. Jessie can't help wanting to meet SN in person. But are some mysteries better left unsolved?
Julie Buxbaum mixes comedy and tragedy, love and loss, pain and elation, in her debut YA novel filled with characters who will come to feel like friends.
Why I Love It:
I can't stop crying and my heart is full of such joy. One of my top reads of the year. What I loved about this story is that in a book about loss, it is really about hope. Buxbaum deftly weaves comedy and tragedy, perfectly capturing not only teen voices but the experience of loss and grief. However, the book is funny and sweet and lovely.
One of the highest compliments I can pay this book is how real all the characters sound. From the first page, I was rooting for Jessie to be okay. It's not an easy road that she has to travel, and what I loved about the journey is that each relationship is measured in the tiniest of fragile baby steps. That felt so right and true to me.
A one sitting read. And for those of you who have never dipped your toe in YA pool, pick up Tell Me Three Things and come on in, because the water is fine.
Subscribe for bonus content and insider scoops!
Twittering away...
https://t.co/1UHQhm57rN Cautiously optimistic about the premise
- Wednesday Feb 21 - 9:20pm
SPOILER ALERT! A fabulous video that you absolutely SHOULD NOT WATCH if you have not yet seen The Good Place s1 fin… https://t.co/Jqf3UnxHg3
- Tuesday Feb 20 - 4:15am
Lose yourself in a funny, sexy urban fantasy romance! The Unlikeable Demon Hunter: Crave releases Feb 20 and to cel… https://t.co/WPcUSnVRRu
- Sunday Feb 18 - 4:56pm
Bet you didn't know you could pair tap dancing and Star Wars! https://t.co/GS2qzvH7nJ
- Friday Feb 16 - 8:45pm
Better late than never! Discovered the Haim Time podcast on Beats One. So good!
- Friday Feb 16 - 6:45pm
Tellulah's Old Darlings