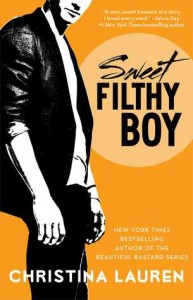 Last Curl Up of the summer and I'm giving you the gift of this series, starting with Sweet Filthy Boy. Four books to devour in the lazy sunshine. Or under cover of the night. No judgment here.
Synopsis:
One-night stands are supposed to be with someone convenient, or wickedly persuasive, or regrettable. They aren't supposed to be with someone like him.
But after a crazy Vegas weekend celebrating her college graduation—and terrified of the future path she knows is a cop-out—Mia Holland makes the wildest decision of her life: follow Ansel Guillaume—her sweet, filthy fling—to France for the summer and just…play.
When feelings begin to develop behind the provocative roles they take on, and their temporary masquerade adventures begin to feel real, Mia will have to decide if she belongs in the life she left because it was all wrong, or in the strange new one that seems worlds away.
Why I Love It:
I picked up this book because my friend Stacee stated in her review that "He is what those swoony YA boys grow up to be. And he speaks French… Do you even need more?" No, I did not.
So I spent more than I usually do on the Kindle version and dug in, with big hopes but not much expectation. Not because of any fault of this story, but that I'd just finished this phenomenal book that I hadn't been able to get out of my head. I'd tried starting 3 other books and DNF'd them all. SFB though, was the winner.
Loved it. Sweet. Filthy. Boy. Really, all you need to know is that the promise of that is more than amply fulfilled. Of course, there is a girl, our protagonist Mia. I liked her. Believed in her issues, loved her friendships, and her determination. Fair to say I devoured this book and have come back to it again and again.
But wait! It only gets better from there. Book 2, Dirty Rowdy Thing, takes us to the sass and hotness of Harlow and Finn, a Canadian (props!) fisherman who knows his way around knots. What's that? You want smexy nerds? No problem. Just read about the graphic novel drawing sensation Lola and Aussie comic book store owner Oliver, in Dark Wild Night. And then there's still another book of awesome for you to get through.
You're welcome.
Have a great summer, darlings!
xo
Tellulah
Subscribe for bonus content and insider scoops!
Twittering away...
https://t.co/1UHQhm57rN Cautiously optimistic about the premise
- Wednesday Feb 21 - 9:20pm
SPOILER ALERT! A fabulous video that you absolutely SHOULD NOT WATCH if you have not yet seen The Good Place s1 fin… https://t.co/Jqf3UnxHg3
- Tuesday Feb 20 - 4:15am
Lose yourself in a funny, sexy urban fantasy romance! The Unlikeable Demon Hunter: Crave releases Feb 20 and to cel… https://t.co/WPcUSnVRRu
- Sunday Feb 18 - 4:56pm
Bet you didn't know you could pair tap dancing and Star Wars! https://t.co/GS2qzvH7nJ
- Friday Feb 16 - 8:45pm
Better late than never! Discovered the Haim Time podcast on Beats One. So good!
- Friday Feb 16 - 6:45pm
Tellulah's Old Darlings