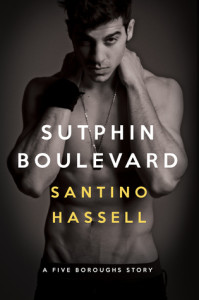 I started off thinking Sutphin Boulevard was simply going to be a hot and dirty m/m. Holy cow, was I wrong and I'm glad I was.
Synopsis:
Michael Rodriguez and Nunzio Medici have been friends for two decades. From escaping their dysfunctional families in the working-class neighborhood of South Jamaica, Queens to teaching in one of the city's most queer friendly schools in Brooklyn, the two men have shared everything. Or so they thought until a sweltering night of dancing leads to an unexpected encounter that forever changes their friendship.
Now, casual touches and lingering looks are packed with sexual tension, and Michael can't forget the feel of his best friend's hands on him. Once problems rear up at work and home, Michael finds himself seeking constant escape in the effortless intimacy and mind-blowing sex he has with Nunzio. But things don't stay easy for long.
When Michael's world begins to crumble in a sea of tragedy and complications, he knows he has to make a choice: find solace in a path of self-destruction or accept the love of the man who has been by his side for twenty years.
Why I Loved It:
I got excited after realizing that the bow chica wow wow came with a best friends to lovers storyline. Fun, right? Then I got into this one-sitting read and realized it was actually an intense journey of guilt, depression, family dysfunction and substance abuse.
I'm totally exhausted after reading this book but what a wonderful ride. First off, I'm in love with Michael and Nunzio. I rooted so hard for them and for Michael to get his act together, both in terms of his emotional issues and his love life. Hassell has given us an MC so flawed and compelling that I couldn't put the book down before knowing Michael was going to be okay.
This book surprised me in all the best ways and I look forward to the next one in the series.
Subscribe for bonus content and insider scoops!
Twittering away...
https://t.co/1UHQhm57rN Cautiously optimistic about the premise
- Wednesday Feb 21 - 9:20pm
SPOILER ALERT! A fabulous video that you absolutely SHOULD NOT WATCH if you have not yet seen The Good Place s1 fin… https://t.co/Jqf3UnxHg3
- Tuesday Feb 20 - 4:15am
Lose yourself in a funny, sexy urban fantasy romance! The Unlikeable Demon Hunter: Crave releases Feb 20 and to cel… https://t.co/WPcUSnVRRu
- Sunday Feb 18 - 4:56pm
Bet you didn't know you could pair tap dancing and Star Wars! https://t.co/GS2qzvH7nJ
- Friday Feb 16 - 8:45pm
Better late than never! Discovered the Haim Time podcast on Beats One. So good!
- Friday Feb 16 - 6:45pm
Tellulah's Old Darlings