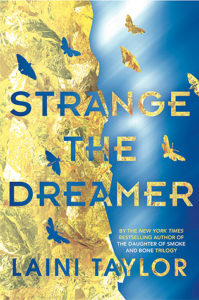 I was so excited to read Strange The Dreamer. I love Laini Taylor and I thought it was a standalone, which I really wanted. Yeah, no. I have to get into the habit of checking if books are a series or not instead of just assuming one way or the other. So, how did it rate?
Synopsis:
The dream chooses the dreamer, not the other way around—and Lazlo Strange, war orphan and junior librarian, has always feared that his dream chose poorly. Since he was five years old he's been obsessed with the mythic lost city of Weep, but it would take someone bolder than he to cross half the world in search of it. Then a stunning opportunity presents itself, in the person of a hero called the Godslayer and a band of legendary warriors, and he has to seize his chance or lose his dream forever.
What happened in Weep two hundred years ago to cut it off from the rest of the world? What exactly did the Godslayer slay that went by the name of god? And what is the mysterious problem he now seeks help in solving?
The answers await in Weep, but so do more mysteries—including the blue-skinned goddess who appears in Lazlo's dreams. How did he dream her before he knew she existed? And if all the gods are dead, why does she seem so real?
Welcome to Weep.
Why I Love It:
Taylor is one of those authors whose writing is so lush and evocative and gorgeous, that I sit there wondering why I bother to tell stories and Strange the Dreamer is no exception. I loved the world of Weep so damn much. It's classic storytelling, using a ton of archetypes and mythology/fairy tale tropes, which in the hands of someone as skilled as Taylor feel fresh and unique.
I know this is frustrating, but I kind of don't want to tell you anything about it. I didn't know anything beyond the synopsis and I think that's the best way to go into this. (Along with the realization that it's just book 1.) Lazlo is a fabulous character, I adored the blue-skinned goddess, and really, there's not a boring person in the bunch. It's fitting how they all have their personal demons, yet there is so much light and wonder with these characters.
You will laugh, you will sob, it's truly epic storytelling.
So, yeah, I'm going to be totally coy but trust me: let the secrets of Weep unveil themselves to you, page by page. Don't read other reviews. But absolutely read this book.
Subscribe for bonus content and insider scoops!
Tellulah's Old Darlings