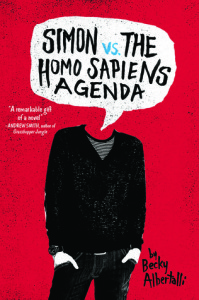 I'm taunting you this week, darlings. Giving you a million feels and all the stars for Simon vs the Homo Sapien Agenda, which won't be released until April 7. But it's so good that I wanted to get it on your radar now.
Synopsis:
Sixteen-year-old and not-so-openly gay Simon Spier prefers to save his drama for the school musical. But when an email falls into the wrong hands, his secret is at risk of being thrust into the spotlight. Now Simon is actually being blackmailed: if he doesn't play wingman for class clown Martin, his sexual identity will become everyone's business. Worse, the privacy of Blue, the pen name of the boy he's been emailing, will be compromised.
With some messy dynamics emerging in his once tight-knit group of friends, and his email correspondence with Blue growing more flirtatious every day, Simon's junior year has suddenly gotten all kinds of complicated. Now, change-averse Simon has to find a way to step out of his comfort zone before he's pushed out—without alienating his friends, compromising himself, or fumbling a shot at happiness with the most confusing, adorable guy he's never met.
Why I Love It:
Those of you who follow my reviews on Goodreads or Booklikes know that I'm on NetGalley. This is a service where readers can sign up for free to be approved for advance e-copies of books. I've found many a phenomenal book that way. Simon is most definitely one of them.
As soon as I saw the title, I knew I had to request it. Except I didn't actually think that I had a shot at being approved. Since I think they wanted US reviewers. Anyhoo, the universe was smiling upon me and my approval from the good people at Penguin Random House UK Children's popped into my inbox. An hour later, I dove in. The plan was to read a chapter, take a quick break from my own writing. Yeah, right. Simon hooked me in and pulled me under. Funny, sweet, sad – I keenly felt every bump and soar of this teen guy's life. His voice was bang on.
I was dying of curiosity to find the real identity of Simon's object of affection Blue, tense with worry over the Martin situation, and lost in painful reminiscence of the strengths and fragilities of teen friendships. And by the time things got into super "awwww" territory, I was a puddle. I don't think I've ever been so rooting for a book kiss to finally happen. Don't add this to your TBR pile when it gets released – skip the pile, dive in and just start reading. Brava, Ms. Albertalli. Brava!
Subscribe for bonus content and insider scoops!
Twittering away...
https://t.co/1UHQhm57rN Cautiously optimistic about the premise
- Wednesday Feb 21 - 9:20pm
SPOILER ALERT! A fabulous video that you absolutely SHOULD NOT WATCH if you have not yet seen The Good Place s1 fin… https://t.co/Jqf3UnxHg3
- Tuesday Feb 20 - 4:15am
Lose yourself in a funny, sexy urban fantasy romance! The Unlikeable Demon Hunter: Crave releases Feb 20 and to cel… https://t.co/WPcUSnVRRu
- Sunday Feb 18 - 4:56pm
Bet you didn't know you could pair tap dancing and Star Wars! https://t.co/GS2qzvH7nJ
- Friday Feb 16 - 8:45pm
Better late than never! Discovered the Haim Time podcast on Beats One. So good!
- Friday Feb 16 - 6:45pm
Tellulah's Old Darlings