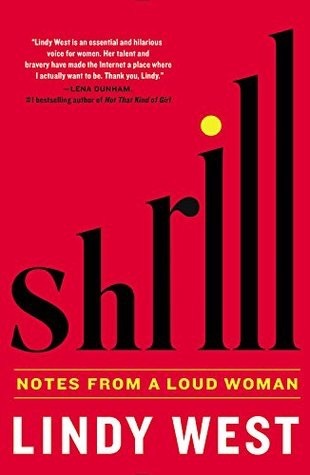 The first time I heard Lindy West, she made me laugh. The second time, she brought me to tears. And with Shrill, I fell in love.
Synopsis:
Coming of age in a culture that demands women be as small, quiet, and compliant as possible–like a porcelain dove that will also have sex with you–writer and humorist Lindy West quickly discovered that she was anything but.
From a painfully shy childhood in which she tried, unsuccessfully, to hide her big body and even bigger opinions; to her public war with stand-up comedians over rape jokes; to her struggle to convince herself, and then the world, that fat people have value; to her accidental activism and never-ending battle royale with Internet trolls, Lindy narrates her life with a blend of humor and pathos that manages to make a trip to the abortion clinic funny and wring tears out of a story about diarrhea.
With inimitable good humor, vulnerability, and boundless charm, Lindy boldly shares how to survive in a world where not all stories are created equal and not all bodies are treated with equal respect, and how to weather hatred, loneliness, harassment, and loss–and walk away laughing. Shrill provocatively dissects what it means to become self-aware the hard way, to go from wanting to be silent and invisible to earning a living defending the silenced in all caps.
Why I Love It:
Articulate, insightful, intelligent, raw, profound, personal, and hilarious, exploring fat shaming, misogyny, and rape culture, Shrill is a must-read. Actually, let me amend that. I feel like people will have one of three reactions – a shrug from the people whom this has no relevance for, sympathy from people who feel compassion for her struggles, and an enormous sigh of relief and recognition from those of us who have shared aspects of her journey.
Yeah, I'm in the latter camp. I know what it's like to be so aware of how I navigate physical space. I've looked in the mirror knowing that my body must be disgusting because society tells me so and yet struggled to understand what was so wrong with me. I wasted a lot of years hating myself for how I looked, no matter what my weight when there was no reason to hate myself at all. And I too, found refuge in being funny.
There is a trend I've been noticing lately in books I read featuring "the curvy girl". This is supposed to be a euphemism for fat except as I read on in these stories, these women own non-plus size bikinis and buy jeans off the shelf at The Gap. Size ten is not fat and it disturbs me that perhaps young women are walking around believing that it is and by extension they themselves aren't beautiful or worthy.
So here's to wonderful, smart, funny, beautiful women of all sizes.
Thank you, Ms. West, for this book. I wish I'd had it twenty years ago, and I'm still thrilled to have found it today.
Subscribe for bonus content and insider scoops!
Twittering away...
https://t.co/1UHQhm57rN Cautiously optimistic about the premise
- Wednesday Feb 21 - 9:20pm
SPOILER ALERT! A fabulous video that you absolutely SHOULD NOT WATCH if you have not yet seen The Good Place s1 fin… https://t.co/Jqf3UnxHg3
- Tuesday Feb 20 - 4:15am
Lose yourself in a funny, sexy urban fantasy romance! The Unlikeable Demon Hunter: Crave releases Feb 20 and to cel… https://t.co/WPcUSnVRRu
- Sunday Feb 18 - 4:56pm
Bet you didn't know you could pair tap dancing and Star Wars! https://t.co/GS2qzvH7nJ
- Friday Feb 16 - 8:45pm
Better late than never! Discovered the Haim Time podcast on Beats One. So good!
- Friday Feb 16 - 6:45pm
Tellulah's Old Darlings