Got another YA series for you, darlings. It finished on an utterly perfect note, so it's time to pimp it out and get you all addicted. (In case you've been wary of the hype around it.)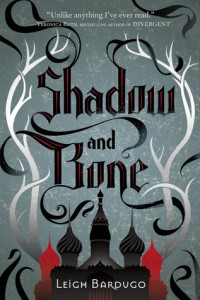 Synopsis:
Surrounded by enemies, the once-great nation of Ravka has been torn in two by the Shadow Fold, a swath of near impenetrable darkness crawling with monsters who feast on human flesh. Now its fate may rest on the shoulders of one lonely refugee.
Alina Starkov has never been good at anything. But when her regiment is attacked on the Fold and her best friend is brutally injured, Alina reveals a dormant power that saves his life—a power that could be the key to setting her war-ravaged country free. Wrenched from everything she knows, Alina is whisked away to the royal court to be trained as a member of the Grisha, the magical elite led by the mysterious Darkling.
Yet nothing in this lavish world is what it seems. With darkness looming and an entire kingdom depending on her untamed power, Alina will have to confront the secrets of the Grisha . . . and the secrets of her heart.
Shadow and Bone is the first installment in Leigh Bardugo's Grisha Trilogy.
Why I Love This Book:
Can we ever objectively experience a book? I'm wondering because reading Shadow and Bone was like getting a few more precious hours with my long departed grandmother. Immersing myself into a world of Russian folklore, superstition, and history. So I have no idea how much of my past coloured my reading experience. Ultimately, it didn't matter because this story is magical. Everything worked for me – even the "love triangle". I'm not a fan of them and this one isn't the norm – but that makes it better because even the relationships end up being far more adversarial and tension filled. 
It's an uneven series. I felt like book two was the weakest for my common book two complaint: that feeling that I'm sitting and waiting for something to kick in to fill the time between the book one set up and the final battle. It did pick up in the second half but most of that book's worth was in setting up events for book three and the deeper exploration of the relationships. And those were beautifully wrought. There are few series in which my alliances and affinities switch as much as they do in this one. Yes, there is black and white in terms of good and evil, but in terms of people, well, like life, it's all shades of grey. Not to diss the plot or the world building though. The mythology is dense and richly layered, and freshingly free of a Western European bent. And yes, that's being said by someone who wrote 3 books of her own based on Greek mythology. And the plot, especially in book three, made my heart stop a few times.
Ultimately, like all great storytellers, Bardugo gave me exactly what I needed. She broke my heart, she lifted me high with joy, and when I shut the cover on this world, I was so profoundly happy to have gotten to be a part of it.
Subscribe for bonus content and insider scoops!
Twittering away...
Finally worked my way through my TBR pile to Keystone by Dannika Dark and I'm so glad I did! https://t.co/7mNkl5f3dP https://t.co/DQRCBD1xCf
- Sunday Feb 25 - 4:54pm
Husband just remembered that once, when asked what she wanted to be when she grew up, my kid replied, "I wanna be on stilts!" #soproud
- Friday Feb 23 - 9:25pm
https://t.co/1UHQhm57rN Cautiously optimistic about the premise
- Wednesday Feb 21 - 9:20pm
SPOILER ALERT! A fabulous video that you absolutely SHOULD NOT WATCH if you have not yet seen The Good Place s1 fin… https://t.co/Jqf3UnxHg3
- Tuesday Feb 20 - 4:15am
Lose yourself in a funny, sexy urban fantasy romance! The Unlikeable Demon Hunter: Crave releases Feb 20 and to cel… https://t.co/WPcUSnVRRu
- Sunday Feb 18 - 4:56pm
Tellulah's Old Darlings