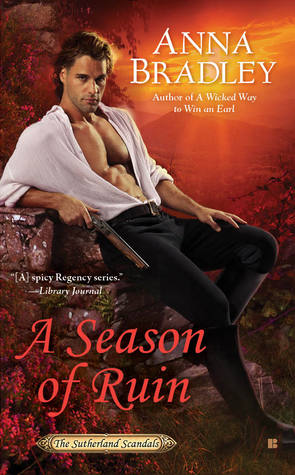 Aaaanddd, I'm back! Did you all have a marvellous summer of reads? I continued my love affair with Kate Daniels' new book, discovered a new UF series (next week on Curl up) and broke my HR reading slump with this little gem. So let's get to it.
Synopsis:
Anna Bradley, author of  A Wicked Way to Win an Earl, continues her Sutherland Scandals series with a tantalizing new Regency romance filled with opulence, elegance, and forbidden desire…
Lily Somerset's plan for the London season is simple: courtship, marriage to a respectable gentleman, then the comfortable existence of a proper Lady. That is, until one tiny misstep leaves Lily on the edge of social ruin, forcing her to depend on a wicked rogue to save her reputation.
Robyn Sutherland doesn't save reputations—he sullies them. He'd rather be drawn and quartered than find himself spending the season as Lily's escort. But he has no choice but to stay until her tattered standing is mended.
What begins as a ruse to deceive London soon flames into an uncontrollable passion. Robyn calls to the wild spirit that lurks beneath Lily's prim exterior, and Lily awakens the hero's heart within Robyn. But can these unlikely lovers trust themselves enough to let desire overrule reason?
Why I Love It:
Well, it pretty much boils down to the fact that this book has not one but TWO of my favourite tropes-best friend's older brother AND enemies to lovers all wrapped in a witty, sexy HR. Exactly what I needed on a lazy summer day. Robyn and Lily are a delight to spend time with. Their sniping and simmering tension was a roller coaster ride 'o fun.
Robyn was never too alphahole, and Lily never too missish. (I can use that right, cause HR?) I didn't want to bash either of them over the head and tell them to get over themselves, which I feel I've been doing a lot of lately to fictional characters.
It may not hit my top strata HR reads, but it went well beyond solid and enjoyable to bring a smile to my face.
Thank you to Berkley Publishing Group and NetGalley for a copy in exchange for a fair and honest review.
Subscribe for bonus content and insider scoops!
Twittering away...
https://t.co/1UHQhm57rN Cautiously optimistic about the premise
- Wednesday Feb 21 - 9:20pm
SPOILER ALERT! A fabulous video that you absolutely SHOULD NOT WATCH if you have not yet seen The Good Place s1 fin… https://t.co/Jqf3UnxHg3
- Tuesday Feb 20 - 4:15am
Lose yourself in a funny, sexy urban fantasy romance! The Unlikeable Demon Hunter: Crave releases Feb 20 and to cel… https://t.co/WPcUSnVRRu
- Sunday Feb 18 - 4:56pm
Bet you didn't know you could pair tap dancing and Star Wars! https://t.co/GS2qzvH7nJ
- Friday Feb 16 - 8:45pm
Better late than never! Discovered the Haim Time podcast on Beats One. So good!
- Friday Feb 16 - 6:45pm
Tellulah's Old Darlings