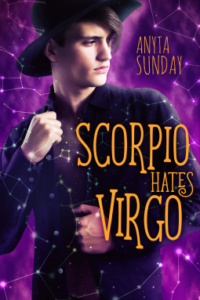 I'm always on the lookout for my next m/m romance, so when Scorpio Hates Virgo crossed my radar the other day, I decided to give it a shot. So how did it hold up?
Synopsis:
This year is all about healing the heart, Scorpio. It's time to leave negative attitudes and stoic facades at the door and let others see the real, more vulnerable you.
Percy Freedman is not grieving. Absolutely not, take that back at once. No, he's entirely sure that selling his dead aunt's home and leaving the neighbors he's known for years is the sane thing to do. Who in their right mind would keep the house that smells like all the hugs he'll never have again?
Nobody, that's who.
Well, except his cul-de-sac neighbors. They all seem to think some paint and new furniture will clean the emotional slate. They all want him to stay.
Even his nemesis, Callaghan Glover.
Especially his nemesis, Callaghan Glover.
Lured into a game of Sherlock Gnomes, Percy finds himself hanging out with his neighbors more than might be considered healthy. Along with juggling new and surprising verbal grenades from Cal, and his burgeoning friendship with Gnomber9, Percy is starting to wonder if selling might have been the grief talking after all . . .
That's right, Scorpio. With a little patience, heartbreak might be a thing of the past . . .
* ~* ~* ~*
"Scorpio Hates Virgo" contains sarcasm, sexual content, a slightly sappy HEA, and an unhealthy obsession with dinosaurs.
It can be read as a standalone.
Why I Loved It:
What a treat! I wasn't entirely sure how I felt about the dictionary entry at the start, and to be honest, those never really did it for me, but other than that small detail, I loved this book. It was funny, there was clever word play, and the growing awareness between Perseus and Callahan that they couldn't consider themselves nemeses anymore had me rooting so hard for them.
This is also very much a story about grief and loss and a community, an extended family actually, coming together to help the healing process. The Sherlock Gnomes game was a ton of fun and gave great insights into all the secondary characters. I'd love to read more in this world, so I'll definitely be going back to read Theo's story.
Thank you to NetGalley and Anyta Sunday for the opportunity to read this title in exchange for a fair and honest review.
Subscribe for bonus content and insider scoops!
Tellulah's Old Darlings