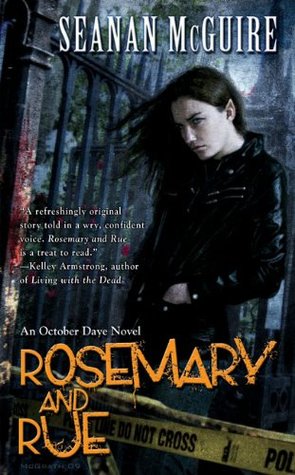 *sounds sirens* New UF series alert! Okay, not new to a lot of you but I'm late to this awesome train that is October Daye.
Synopsis:
October "Toby" Daye, a changeling who is half human and half fae, has been an outsider from birth. After getting burned by both sides of her heritage, Toby has denied the Faerie world, retreating to a "normal" life. Unfortunately for her, the Faerie world has other ideas…
The murder of Countess Evening Winterrose pulls Toby back into the fae world. Unable to resist Evening's dying curse, which binds her to investigate, Toby must resume her former position as knight errant and renew old alliances. As she steps back into fae society, dealing with a cast of characters not entirely good or evil, she realizes that more than her own life will be forfeited if she cannot find Evening's killer.
Why I Love It:
I tell everyone constantly how much I love Mira Grant's Feed trilogy, so what took me so long to read Seanan McGuire (Grant's real name). Whatever it was, I'm glad I dove in. Rosemary and Rue is bleak. It starts bleak, the backstory is bleak and there's not really romance. So not my usual preference. However, it is fabulous! McGuire is a master world builder. I loved her take on faerie mythology, no mean feat given I worship at the altar of Karen Marie Moning.
Then there's October herself. Toby is a broken and brokenhearted woman, just trying to survive who gets pulled back into things she's desperately hoped to leave behind. She's smart, she's capable, and yeah, sometimes she's blinded by emotion and baggage but that only made her more real for me.
I can't wait to read book two.
Subscribe for bonus content and insider scoops!
Twittering away...
SPOILER ALERT! A fabulous video that you absolutely SHOULD NOT WATCH if you have not yet seen The Good Place s1 fin… https://t.co/Jqf3UnxHg3
- Tuesday Feb 20 - 4:15am
Lose yourself in a funny, sexy urban fantasy romance! The Unlikeable Demon Hunter: Crave releases Feb 20 and to cel… https://t.co/WPcUSnVRRu
- Sunday Feb 18 - 4:56pm
Bet you didn't know you could pair tap dancing and Star Wars! https://t.co/GS2qzvH7nJ
- Friday Feb 16 - 8:45pm
Better late than never! Discovered the Haim Time podcast on Beats One. So good!
- Friday Feb 16 - 6:45pm
SNL, why did you cut this?! https://t.co/zW8qYyVfc0
- Tuesday Feb 13 - 12:45am
Tellulah's Old Darlings