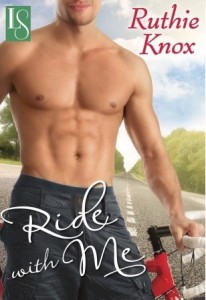 This was a re-read and I loved it more the second time around, so off we go with Ride with Me.
Synopsis:
In this fun, scorching-hot eBook original romance by Ruthie Knox, a cross-country bike adventure takes a detour into unexplored passion. As readers will discover, Ride with Me is not about the bike!
When Lexie Marshall places an ad for a cycling companion, she hopes to find someone friendly and fun to cross the TransAmerica Trail with. Instead, she gets Tom Geiger—a lean, sexy loner whose bad attitude threatens to spoil the adventure she's spent years planning.
Roped into the cycling equivalent of a blind date by his sister, Tom doesn't want to ride with a chatty, go-by-the-map kind of woman, and he certainly doesn't want to want her. Too bad the sight of Lexie with a bike between her thighs really turns his crank.
Even Tom's stubborn determination to keep Lexie at a distance can't stop a kiss from leading to endless nights of hotter-than-hot sex. But when the wild ride ends, where will they go next?
Why I Love It:
What a fun book! Jennifer Crusie used to be my go-to author for contemporary romance but ever since the brilliance that was Bet Me, I've not had the same thrill with her. Then I was introduced to Knox's book About Last Night, which blew my mind.
Here was my original thought: "A friend suggested I check out Knox's Ride With Me next, which I gladly did. While not as mindblowingly awesome or swoony as About Last Night, this book was solid and still very enjoyable. The couple made sense, there was nothing too whiny or annoying about anyone, and enough wit and steam to keep me happy."
Basically at the time, I thought it was a fun road trip romance. Now? Maybe it's because I'm doing an Orphan Black rewatch and Lexie reminded me of Alison in all her high strung glory, but I really got behind this mismatch in a whole new way. It was a lot of fun to see how their opposite personalities really pushed each others' buttons while having to play nice as they crossed the country by bike. The salsa scene alone is a thing of beauty and the tension is on simmer for a good long while.
What's not to love?
Subscribe for bonus content and insider scoops!
Twittering away...
https://t.co/1UHQhm57rN Cautiously optimistic about the premise
- Wednesday Feb 21 - 9:20pm
SPOILER ALERT! A fabulous video that you absolutely SHOULD NOT WATCH if you have not yet seen The Good Place s1 fin… https://t.co/Jqf3UnxHg3
- Tuesday Feb 20 - 4:15am
Lose yourself in a funny, sexy urban fantasy romance! The Unlikeable Demon Hunter: Crave releases Feb 20 and to cel… https://t.co/WPcUSnVRRu
- Sunday Feb 18 - 4:56pm
Bet you didn't know you could pair tap dancing and Star Wars! https://t.co/GS2qzvH7nJ
- Friday Feb 16 - 8:45pm
Better late than never! Discovered the Haim Time podcast on Beats One. So good!
- Friday Feb 16 - 6:45pm
Tellulah's Old Darlings