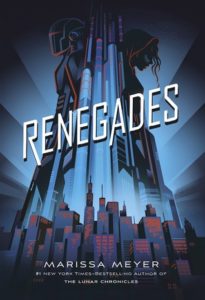 The idea of Renegades made me equal parts stupidly excited and heavy with dread. How could it be as good as The Lunar Chronicles? Plus YA superheroes. I mean, that's a lot of expectation, right? Read on, for how it fared.
Synopsis:
Secret Identities. Extraordinary Powers. She wants vengeance. He wants justice.
The Renegades are a syndicate of prodigies—humans with extraordinary abilities—who emerged from the ruins of a crumbled society and established peace and order where chaos reigned. As champions of justice, they remain a symbol of hope and courage to everyone…except the villains they once overthrew.
Nova has a reason to hate the Renegades, and she is on a mission for vengeance. As she gets closer to her target, she meets Adrian, a Renegade boy who believes in justice—and in Nova. But Nova's allegiance is to a villain who has the power to end them both.
Why I Love It:
Undercover supervillians, sweet superhero families, and a brand new ship to, well, ship! I'm in love with this new series. All my fears were totally unfounded. The thing I may have loved most is that our main character Nova has super powers but most of what makes her so badass is science. She's this genius inventor who has made a ton of cool weapons and can fight with the best of them. Also, she's just looking for family and connection, which gah, feels.
Which brings me to Adrian, goofy and adorable and worthy of all the swoons Nova finds herself feeling. His main superpower is his ability to draw things and bring them to life, which is interesting, but he's gone further with it in a smart way, and managed to get himself into trouble because of it. It's secrets upon secrets in this story all set against phenomenal world building.
There hasn't been a ton of YA capturing my attention since summer, and I've failed to connect with most of the superhero TV shows out there this fall, so this could have had two strikes against it, but nope. I want the second book yesterday, please and thank you.
Subscribe for bonus content and insider scoops!
Tellulah's Old Darlings