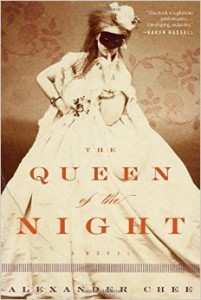 With a story about an opera singer, whose secret past has suddenly shown up as the subject of a new opera, it's no surprise that The Queen of the Night is, well, operatic in scope and feel.
Synopsis:
Lilliet Berne is a sensation of the Paris Opera, a legendary soprano with every accolade except an original role, every singer's chance at immortality. When one is finally offered to her, she realizes with alarm that the libretto is based on a hidden piece of her past. Only four could have betrayed her: one is dead, one loves her, one wants to own her. And one, she hopes, never thinks of her at all.  As she mines her memories for clues, she recalls her life as an orphan who left the American frontier for Europe and was swept up into the glitzy, gritty world of Second Empire Paris. In order to survive, she transformed herself from hippodrome rider to courtesan, from empress's maid to debut singer, all the while weaving a complicated web of romance, obligation, and political intrigue.
Featuring a cast of characters drawn from history, The Queen of the Night follows Lilliet as she moves ever closer to the truth behind the mysterious opera and the role that could secure her reputation — or destroy her with the secrets it reveals.
Why I Love It:
A massive story, epic in scale, traversing continents, surviving sieges, and mired in political intrigue and conspiracy, this book lifts readers up to dizzying passions and plunges them to the lowest depths. All very theatrically, of course. I was enchanted with the story of Lilliet, the mute orphan with the fragile yet potent singing voice of a falcon soprano.
The mystery of who is putting on this opera, who can possibly know her secrets, is a slender one, yet provides the perfect way into her past–a past she may have thought herself free of but which continues to trap her in its web.
The prose is dense, grandiose, and gorgeous, befitting its lofty milieu. While I did think that the last third could have been cut back a bit, and I wish the romance had been handled a bit more definitively, I couldn't put it down. Apparently Chee spent a decade researching and writing this and it shows in the detailed care of everything from court gossip to gowns to historical fact and knowledge of opera and the operatic world.
Bravo, Mr. Chee.
Subscribe for bonus content and insider scoops!
Twittering away...
https://t.co/1UHQhm57rN Cautiously optimistic about the premise
- Wednesday Feb 21 - 9:20pm
SPOILER ALERT! A fabulous video that you absolutely SHOULD NOT WATCH if you have not yet seen The Good Place s1 fin… https://t.co/Jqf3UnxHg3
- Tuesday Feb 20 - 4:15am
Lose yourself in a funny, sexy urban fantasy romance! The Unlikeable Demon Hunter: Crave releases Feb 20 and to cel… https://t.co/WPcUSnVRRu
- Sunday Feb 18 - 4:56pm
Bet you didn't know you could pair tap dancing and Star Wars! https://t.co/GS2qzvH7nJ
- Friday Feb 16 - 8:45pm
Better late than never! Discovered the Haim Time podcast on Beats One. So good!
- Friday Feb 16 - 6:45pm
Tellulah's Old Darlings