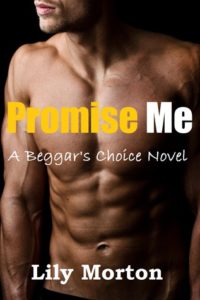 I just discovered Lily Morton and Promise Me and have now happily gone down the rabbit hole of all her books. Come with me!
Synopsis:
A lifetime of repressed feelings. A commitment phobic rock star. Totally friend zoned. Welcome to my world!
Mabel has been in love with her best friend Charlie since they were thirteen. He's funny, clever and unbelievably hot. There are just three tiny problems:
1. He's the lead singer of Beggar's Choice, one of the biggest bands in the world, and the object of most women's fantasies
2. He has an incredibly beautiful supermodel girlfriend
3. He doesn't love her back
Now, as part of a family emergency she's stuck sharing a house with him for the first time since they were kids. How will she manage to keep her feelings hidden while living in such close quarters with him and what will happen if Charlie finds out?
Charlie has always been a love them and leave them type of bloke, and being a musician he's had plenty of opportunity to develop this persona. However, the one constant in his turbulent life has always been his best friend Mabel. It hasn't escaped his notice that she's utterly beautiful but he can't ever risk losing her in his life, so there's no chance of anything ever developing between them – or is there?
Two best friends living together – what could go wrong?
Why I Love It:
I'm very vocal in my love of the "best friends to lovers" trope. Combine that with dude being a rock star and you've pretty much hit my book catnip. Discovering Morton's books was like a ray of sunshine on a rainy day. Her stories are so funny and sexy! Plus she writes both m/f and m/m romance. (Check back next week for one of the latter.)
I totally bought the friendship between Charlie and Mabel. There were a million little shorthands and inside jokes born of a lifetime of being close to a person. That said, I also bought the longing Mabel had for him, as well as her justifying away any and all mixed messages he was starting to send, in order to protect her heart. Been there. Lived that.
Promise Me featured characters that it was just so much fun to hang out with. Everyone had a real spark to them, engaging me and getting me excited for their individual stories to come. There was a delicious amount of suffering and a great payoff after much pain. What more could a reader girl ask for?
Subscribe for bonus content and insider scoops!
Tellulah's Old Darlings